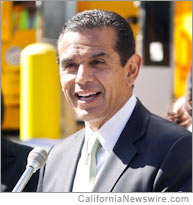 LOS ANGELES, Calif. /California Newswire/ — Mayor Antonio Villaraigosa, LAPD Chief of Police Charlie Beck and LAWA Police Chief George Centeno announced on Thursday (May 12) the addition of new canines specially trained to detect a moving person carrying explosives at Los Angeles International Airport.
"Our highly trained canine bomb detection unit, combined with our additional security measures and protocols, will keep LAX on the cutting edge of airport security," Mayor Villaraigosa said. "We know that our airport is a terrorist target, and we remain committed to keeping LAX one of the safest airports in America."
This canine team is trained to discreetly screen passengers for Human Borne Improvised Explosive Devices (HBIED). Unlike traditional Explosive Detection Canines, these canines will pick up a scent and track an individual even if the person is moving. These new dogs will complement the efforts of the largest canine team of any airport in the nation. Due to security purposes, the total number of new dogs was not announced.
"During our review of airport security, one of the areas that we examined was our explosive detection canine program," said Chief Charlie Beck. "We reported our findings to Mayor Villaraigosa who then sent correspondence to the Transportation Security Administration (TSA) recommending that they review their training protocols for the National Explosive Detection Canine Training Program (NEDCTP)."
The canines joined the force after Villaraigosa directed LAPD and Los Angeles World Airport Police (LAWA-PD) to conduct a security review of LAX consistent with President Obama's direction to "aggressively pursue enhanced screening technology, protocols, and procedures" in the aviation sector following the failed 2009 Christmas Day terrorist attack.
The LAPD and LAWA-PD participated in a comprehensive training program specifically designed to provide handlers and responding officers with an understanding on the uniqueness of the Explosive Detection K9 alert, and the skills to properly, effectively and safely handle any situation that arises. The Los Angeles Police Foundation funded the training of the LAPD K-9 units and police-officer handlers and Los Angeles World Airports, a proprietary agency that receives no funding from the City, funded the LAX K-9 teams.
"As an addition to the number of security measures in place at LAX, the new canine program enhances our ability to maintain a safe environment for the traveling public and adds an additional layer of protection to help combat potential acts of terrorism," said Los Angeles Airport Police Chief George R. Centeno.
The City is continually investing in new technology to preserve the safety at LAX and for all Angelenos and visitors. In January 2011, LAX opened a new, $13.9 million, state-of-the-art Airport Response and Coordination Center (ARCC) that is both a daily operations center, and an emergency operations center entitled the Incident Management Center (IMC). LAWA also installed Automated Imaging Technology at every terminal to screen passengers for both metallic and non-metallic threats, including weapons and explosives or any other items that may be concealed under a passenger's clothes. LAWA is also investing in an In-Line Baggage Handling & Screening System program will improve and automate the security screening of checked baggage at LAX terminals and will make travel through LAX safer, faster and convenient.