LOS ANGELES, Calif. /California Newswire/ — Mayor Antonio Villaraigosa announced the appointment of Rafael Bernardino to the Board of Fire and Police Pension Commissioners on Monday. "Rafael Bernardino brings decades of legal experience representing both high profile public and private clients," Mayor Villaraigosa said. "His legal acumen will be a great asset to the Board of Fire and Police Commissioners."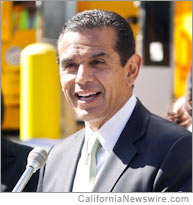 Rafael Bernardino, Jr. is currently a partner at Hobson, Bernardino & Davis, LLP. He was previously a partner at Bassi Edlin Huie & Blum, LLP where his practice focused on litigation, environmental law and intellectual property. Prior to that role, he was a partner at Michelman & Robinson, LLP where he specialized in both complex civil and criminal litigation. His past clients include Air France, Alcoa, Inc., Mercedes Benz of North America, and the Walt Disney Company.
Mr. Bernardino is also an adjunct professor at Westwood College where he teaches courses on criminal justice and paralegal studies. His previous public sector experience includes serving as a law clerk to the Honorable Manuel L. Real and later as an attorney-advisor on intelligence policy at the United States Department of Justice.
As an active member of the community, Mr. Bernardino was appointed to the Proposition Q Citizen Oversight Committee to ensure voter-approved Measure Q funds repair and upgrade LAUSD classrooms. He is also a board member of Filipino American Service Group and a member of the Asian American Bar Association and Hispanic National Bar Association.
He received a B.A. in Economics and Political Science from the University of Southern California and a J.D. from the University of Southern California School of Law.