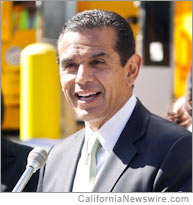 LOS ANGELES, Calif. /California Newswire/ — Mayor Antonio Villaraigosa and the Los Angeles City Council will honor five Minority Business Enterprises (MBEs) during the two-day 17th Annual Minority Business Awards and Conference "Fostering Strategic Business Growth for Job Creation" to be held March 23rd and 27th.
"The City of Los Angeles is committed to giving all minority businesses the resources and support they need to thrive," said Mayor Antonio Villaraigosa. "Minority-owned businesses are vital to the economic well-being of Los Angeles, and their continued success stands as a strong testament to the dynamism and diversity that keeps our City going."
Los Angeles has 325,000 small businesses, with about 70% being minority and women-owned.
The winners of the 17th Annual Minority Business Awards are:
Construction Firm of the Year- TEC Contractors & Engineers -Timothy Coffey, President/CEO, nominated by Joe Thompson of Walsh Austin Joint Venture. TEC was founded in 1988 and employs 105 full-time engineering and construction professionals who manage all phases of construction projects. TEC has been recognized for its exemplary safety record, and is committed to the underserved and underemployed areas of Los Angeles.
Technology Firm of the Year – 3S Global Business Solutions (3SGBS) – Sujit Ghosh, CEO/Sales Director and Sam Mookerjee, Director of Corporate Affairs, self-nominated. 3S provides IT staffing, web development and maintenance, and IT consulting services to government and commercial enterprise clients nationwide. Since being established in 2007, the company has grown from a staff of two to ten full-time employees and continues to create jobs.
Green Energy Firm of the Year – FCI Management Consultants – Patricia Watts – President/CEO, self-nominated. FCI was established in 1998 as a full-service energy and water consulting company headquartered in Long Beach, CA, with a satellite office in Long Island City, New York. Combined, the company has close to 100 employees and offers comprehensive, value-added expertise in energy and water efficiency services.
Green Environmental Firm of the Year – Sapphos Environmental, Inc. – Marie Campbell, President, self-nominated. Sapphos is the largest environmental team in the greater Los Angeles area. This 20-year old company has 51 employees, marking a 20% growth in staff since 2009. The specialized services Sapphos provides deal with a wide range of environmental issues.
Global Export Firm of the Year – Aldelano Packaging Corporation – Alfred D. Hollingsworth, CEO, self-nominated. Aldelano has been in business since 1968 and employs 500 nationwide in California, Tennessee, Wisconsin, and Georgia. The company has grown to become one of the nation's leading providers of Fulfillment and Managed Staffing to provide manufacturers with high-quality labor and full project and systems management to meet their fulfillment needs.
The two-day 17th Annual Minority Business Awards & Conference begins on Friday, March 23rd with a City Council presentation of Certificates of Recognition to the five winners and three runner-ups: Alameda Construction, Coleman Construction, and HRemedy Business Solutions.
The conference sessions are open to the public and will be held at the Los Angeles Police Auditorium located at 100 W. First Street, starting at 2:00 PM on Tuesday, March 27th. The two – 1 ½ hour sessions will be conducted by industry expert panelists on topics of importance to small and emerging businesses:
1)"Measure R Contracts: Understanding the Design Build Bid Process" and 2) "Mergers & Acquisitions: A 21st Century Strategy for Growth."
Registration is required to attend the conference sessions. Tickets can be purchased for both sessions for $20.00 per person at: https://www.brownpapertickets.com/event/229530.
Later that evening the honorees will be recognized at an invitation only private Awards Reception, in the Bradley Tower in City Hall.
Since 1994 the Mayor's Office has partnered with the U.S. Department of Commerce-Minority Business Development Agency (MBDA) to provide business development support to minority firms through the program formerly known as LA MBOC. As of April 1, 2011, the relationship with the MBDA changed to include a partnership with the University of Southern California (USC) to administer the new program, now known as the MBDA Business Center-Los Angeles (MBC-LA). The annual award recognition was established by the MBDA.
Nominations were submitted to the Mayor's Office of Economic & Business Policy and the winners were selected by a panel of judges following the nomination period, December 1, 2011 to January 19, 2012.
In addition to receiving trophies and certificates the 2012 Minority Firms of the Year will join the Mayor's Office of Economic & Business Policy at the Annual Minority Enterprise Development (MED) Week Conference from September 24-27, 2012 in Washington DC. This conference provides Minority Business Enterprises with information and access to federal contracting managers, valuable workshops and training sessions.