LOS ANGELES, Calif. /California Newswire/ — This past week, Los Angeles Mayor Eric Garcetti appointed three Los Angeles representatives to the board of the county's transportation agency, one of the biggest decisions the new mayor has made so far that will influence his administration's transportation projects, according to a post on the Mayor's website.
Editorial Notice: this article has been removed as it appears that the Mayor copied and published the news item on the Los Angeles Mayoral website: http://www.lamayor.org/garcetti_appoints_three_l_a_city_representatives_to_metro_board — which we mistakenly presumed was a press release/news item issued by the Mayor — when, in fact, the news item was an unattributed article sourced from the Los Angeles Times, and written by Los Angeles Times Staff Writer Laura J. Nelson, and found here: http://articles.latimes.com/2013/jul/18/local/la-me-ln-garcetti-mta-appoints-20130718 .
As a 30+ year old publishing company, Neotrope® which publishes CaliforniaNewswire® and editor in chief Christopher Simmons have never "plagiarized" content from any source, ever. This unintentional error was neither intentional theft of content, nor any effort to mislead anyone that the content was invented by our site. We routinely publish news announcements from political members of the State government, and the information in question was clearly *NOT* attributed to the LA Times on the Mayor's website.
Our apologies for the misunderstanding, and to the writer of the original article, and to the publisher of the LA Times for the oversight. While the Mayor's office clearly should have attributed the "news item" more clearly, we should have taken the extra step to double-verify the news content was an actual press release and not an "in the news" posting.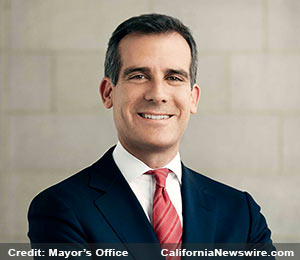 Eric Garcetti is the 42nd Mayor of Los Angeles. His "back to basics" agenda is focused on job creation and solving everyday problems for L.A. residents.
More information: http://www.lamayor.org/ .