NEW YORK, N.Y. — Barbaro, the euthanized champion racehorse, is an emblem for the Right To Die and Death With Dignity movements in a monument to be unveiled in Central Park this April, before the 134th Kentucky Derby. "The Barbaro Memorial for the Right to Die" by controversial sculptor Daniel Edwards is a tribute to the late Triple Crown contender and is dedicated to the institution of euthanasia, announced Manhattan's Leo Kesting Gallery.
"The Barbaro Memorial" will depict the thoroughbred champion in the winner's circle on his back with his number 8 saddle cloth draping his belly and hooves in the air, representing his inability to stand on his feet due to the debilitating laminitis which followed the shattered ankle he suffered in the 2006 Preakness Stakes.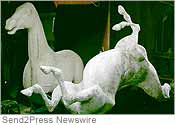 Barbaro was put down for his injuries January 29th of 2007.
Barbaro was euthanized after every option for saving him was explored, well into a painful existence. "A suffering horse cannot call Dr. Kevorkian for an assisted suicide because, like Terry Schiavo, the ailing horse cannot speak for itself," said gallery co-director, David Kesting. It was reported that in the end, Barbaro was biting at people before he was finally allowed to die with dignity.
"We believe a memorial dedicated to the Right to Die will encourage horse owners to forego their own self-interests and act mercifully on behalf of their suffering horse," said gallery co-director, John Leo. "If Barbaro has taught us anything, it is that horses deserve our compassion first."
Barbaro, winner of the Kentucky Derby by the largest margin since 1946, was considered a shoe-in to win the Belmont Stakes and English Derby, fueling speculation his life was prolonged for stud fee earnings.
Edwards's past sculptures include a nude Britney Spears giving birth on a bearskin rug, an interactive autopsy of Paris Hilton with removable organs, and a war dead Prince Harry clutching the cameo-locket of his late mother Princess Diana.
Leo Kesting Gallery is at 812 Washington St. in Manhattan. Contact David Kesting at 917-650-3760 or John Leo at 917-292-8865 or http://www.BarbarosLaw.com.