SAN FRANCISCO, Calif. — John Waguespack, a unique San Francisco Surreal Artist, launches his latest exhibit "REINCARNATION" at District in San Francisco on Thursday April 12th. This exhibit ties history, pop culture, and surrealism into a colorful display of American iconography. "REINCARNATION" shows the affect of a former president's "reincarnation" on the economy. The largest piece, "1971," measures 80 x 80 on 4 panels and weaves over 60 historical and political events, from the same year, into one large image. The exhibit comprises several oil, acrylic and mixed media on large canvases, all available for sale.
John Waguespack's art emerged onto the San Francisco art scene with great fanfare in 2005. He works in several mediums including oil, acrylic, ink, multimedia and industrial design. "REINCARNATION" will be the second exhibit at District for John since their grand opening in February 2007. "I am very excited about the pieces that are a part of this collection, they are a reflection of my personal life experiences that I hope to share with others for their own interpretation and recollection," said John Waguespack.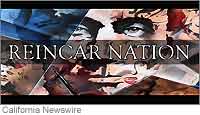 A meet the artist reception is being held at District from 6-8 PM on Thursday April 12th in San Francisco's SOMA. The exhibit will continue to be on display through June, 2007. John will also be featured in upcoming events, shows and exhibitions in San Francisco, Los Angeles and New York throughout 2007.
About John Waguespack
Born and raised in Atlanta, John Waguespack has been painting and drawing since the age of 3. After attending Boston College as a finance major, he spent several years working for Wall Street. In an attempt to recapture his sanity, he attended the Portfolio Center in Atlanta and studied art direction and design. John moved to San Francisco in 1998 where he was an art director for several bay area ad agencies. In 2005 he quit the 9 to 5 to focus completely on painting.
"My work, like my mind, floats heavily between the abstract and the surreal. The struggle is often to make sense of the initial chaos created by abstraction and push elements into the surreal. The paintings essentially design themselves, shapes form, light plays and eventually a story begins to unfold. The subconscious often interjects historical and current events, religion, sarcasm and elements of popular culture." (http://www.johnwaguespack.com)
About District
District is a neighborhood lounge for bottles and bites located in SOMA at 216 Townsend Street, (between 3rd and 4th). District, a wine lounge and small plates restaurant, offers guests an atmosphere to enjoy great wines paired with food while offering a meeting place for both epicures and oenophiles, alike. (http://www.districtsf.com)
[tags]John Waguespack, District wine lounge, San Francisco Surreal Artist[/tags]