CHANTILLY, Va. — OMNISEC International Investigations, Inc., the trusted leader in personal security investigations services, today announced that Major General (USAF Retired) John Casciano has joined the company as President of its wholly owned subsidiary, OMNISEC International Investigations, Inc. General Casciano will be a member of the OMNIPLEX World Services Corporation Executive Team and lead the day-to-day operations of OMNISEC.
Most recently, General Casciano served as Senior Vice President and Chief Operating Officer of Lexis Nexis Special Services Inc. He retired in 1999 from the United States Air Force's senior-most intelligence community position as Director of Intelligence, Surveillance and Reconnaissance. During a military career spanning more than 30 years, he has served in a variety of command and staff positions in both the United States and overseas.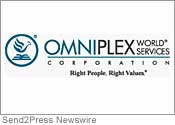 General Casciano has extensive expertise in the domains of information security, information operations and Intelligence, Surveillance and Reconnaissance (ISR). He brings seasoned experience and knowledge of the intelligence, federal law enforcement, and Homeland Security markets to OMNISEC. He currently serves as a member of AFCEA International's Intelligence Committee and has participated in advisory panels and studies for the Defense Science Board and Air Force Scientific Advisory Board. General Casciano holds a bachelor's and a master's degree from Georgetown University and is a native of Philadelphia, Pa.
"General Casciano is a seasoned and talented leader who adds depth to our executive team and will help us to extend our professional security services offerings in the government market," said Julien Patterson, President and CEO of OMNIPLEX World Services Corporation. "His expertise in the intelligence community will also enable us to continue to serve the unique requirements of this strategically important market sector."
About OMNIPLEX
OMNIPLEX World Services Corporation is a privately held company based in Chantilly, Va., with annual revenue of over $100 million. OMNIPLEX World Services Corporation and its wholly owned subsidiaries are leaders and innovators in delivering intelligence, investigative and security services to prestigious corporations and government agencies located throughout the world.
A top-five company in its service markets, OMNIPLEX is also a top-100, minority-owned firm in the United States that is guided by the corporate philosophy of "Right People. Right Values(R)."
For more information, please visit http://www.omniplex.com.