PHILADELPHIA, Pa. — Jacob Holtz Company has acquired the product line Table Shox(R) from Fundamental Design, Inc., a British Columbia Corporation. Table Shox is an automatic, self-adjusting, hydraulic glide that replaces manual table glides.
Small shock absorbers automatically adjust to any uneven floor surface and prevent tables from wobbling. "Table Shox(R) is a perfect compliment to Jacob Holtz's current Superlvel(R) product line which is a mechanical solution to the same problem. This combination allows us to offer our customers the best alternative to their specific application while marketing an additional premium brand name," said Bill Frame, President of Jacob Holtz.
For over 60 years, Jacob Holtz Company has served commercial customers with outstanding service and quality products including casters, metal stampings, and glides. In 2004, the company acquired On the Level, which added automatic self-adjustable Superlevel(R) glides to its product line.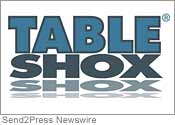 Jacob Holtz Company is an Osage Industries portfolio company. Osage Industries, based in Bala Cynwyd, PA, is an acquirer of manufacturers and value-added distributors in the middle market.
For more information on Jacob Holtz:
http://www.jacobholtz.com
For more information on Osage Industries:
http://www.osageinvestments.com