DENVER, Colo. — Ironman China Ltd. (ICL), announced today that the City of Haikou, Hainan will be the venue for Asia's second Ironman 70.3 series event. Ironman 70.3 China will take place on April 20, 2008 and will be the first time that a full-distance Ironman and Ironman 70.3 race will be staged at the same venue on the same day.
Ironman 70.3 China will start 2 hours after Ironman China. The race course will be one-loop of Ironman China's two-loop swim and bike course and the run will include the opening 17 kilometers of the Ironman China run course.
"This is a unique concept," said Murphy Reinschreiber Ironman China's Event Director. "Staging both races on the same day affords a wider range of competitors the opportunity to share in the Ironman experience. Every effort will be made to weave the two races together in a way that provides a top-flight competitive experience for all competitors regardless of which race they enter."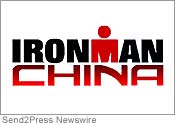 Ironman 70.3 China offers 25 qualifying slots for the Ford Ironman World Championship in Clearwater, Florida, USA in November 2008.
Hainan Island, the 'Hawaii' of China, is a beautiful tropical island located in the South China Sea about an hour by air from Hong Kong. Haikou, the island's principal city and capital, has a population of 1,700,000 and features world-class resort hotels, sandy beaches, and a vibrant city life.
The Ironman 70.3 China website (www.IronmanChina703.com) will begin accepting registration by October 3, 2007, and links to the event may be found at www.ironmanchina.com as well as www.ironman.com, the website of the World Triathlon Corporation (WTC).
About ICL
Ironman China Ltd. is a Hong Kong corporation that has been licensed by the World Triathlon Corporation to stage Ironman triathlons in China.
For further information regarding this announcement and for other information related to Ironman China, please direct your inquiries to info@ironmanchina(.com).