ROCK HILL, S.C. — Interim HealthCare Hospice of Rock Hill, South Carolina, provider of home health hospice care services is pleased to announce that they have recently received their Hospice Medicare certification. Interim HealthCare of Rock Hill is a locally-owned franchise which is part of a national home care and staffing company with nearly 300 offices throughout the United States.
With an impressive staff of Physicians RNs, LPNs, Social Workers, Chaplains, Hospice Aides, volunteers and other care professionals, Interim HealthCare Hospice provides end of life care services for people with life limiting illnesses. Congress's Medicare Hospice Benefit of 1983 was established to ensure that all Medicare beneficiaries could access high quality end of life care. As part of the new license the Interim Rock Hill Hospice will be able to help more people and their families in the community with end of life care. The Interim Rock Hill Hospice will serve York, Chester, Lancaster, Union and Fairfield Counties.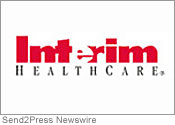 Margaret Webb, Chief Operating Officer, of the Interim HealthCare and Hospice Morris Group franchise states, "We look forward to continuing to provide our patients and their families with the high-quality care they have come to expect." The Morris Group franchise was opened in 1988 by John and Lisa Morris and in 2000 they entered a partnership with Margaret Webb and Terri Pilkington to open additional offices throughout North and South Carolina. Today, they own and operate 18 locations.
Founded in 1966, Interim HealthCare is the nation's oldest proprietary national organization providing health care personnel at all skill levels in all settings. Through a national network of more than 300 offices, Interim HealthCare provides diverse services including home care, medical staffing and occupational health. Interim employs more than 75,000 health care workers and provides services to approximately 50,000 people each day.
For more information, visit http://www.interimhealthcare.com .