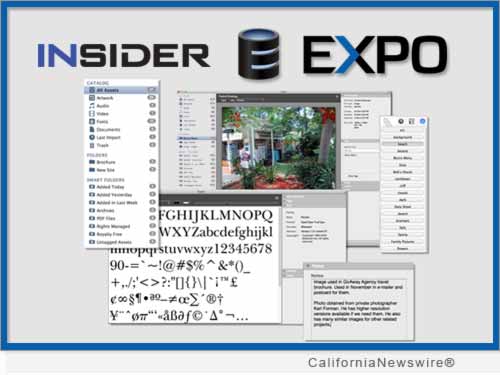 SAN JOSE, Calif. /California Newswire/ — Insider Software, the maker of FontAgent(R) Pro, has launched Expo(TM), an innovative asset manager that redefines how web, creative and marketing professionals discover, manage and utilize images, fonts, icons, multimedia and application documents in their projects. By supporting their creative workflow, Expo helps them develop better designs, websites, documents, presentations and materials.
Discover New Assets on the Internet:
Expo's unique, user-customizable, stock-site manager and built-in browser find free and commercial assets quickly on the Web. Users can visit several assets sites with a single click, select new assets, and drop them into Expo-which then imports the assets and their contents, properties and tags into its catalog.
Manage and Organize All Digital Assets and Their Metadata:
Using Expo, users can import a wide range of assets including documents, images, presentations, fonts, icons, music, audio and video files. Expo auto-organizes them into customizable smart folders based on the assets' attributes and metadata. Users can also drag assets into project, product, client, source or other user-defined folders to organize them anyway they want-so the assets are easy to find and put to work.
Powerful Tagging that Works Everywhere:
As Expo imports asset files, it auto-tags them to preserve their Mac OS folder associations as well as any tags already assigned by asset vendors and associates. Users can also add their own automatic, manual and batch tags at any time. Later, users can search those tags to find matching assets in seconds.
Get Instant Spotlight-Style Search Results:
Expo includes a Mac OS Spotlight-style search that examines tags, file names, file types, sources, dates, licenses, image specs and more. Users instantly see assets matching their search criteria rather than waiting for pages of unhelpful search results.
Include Fonts as First-Class Citizens:
Insider applies its skills as a long-time leader in font management to treat fonts as first-class citizens in Expo. With a simple click, Expo users can view all their fonts; see font previews in customizable text, size and color; and activate and deactivate selected fonts.
Put Assets Directly to Work in Mac Apps:
Users can drag assets out of Expo directly into Mac folders and applications from Adobe, Quark, Apple, Microsoft and thousands of others. Or they can use the patent-pending ExpoExpress menu widget to quickly select the right assets even when the Expo app window isn't visible.
Track Asset Licenses to Avoid Violations:
Expo tracks asset licenses so users know their rights and restrictions, and avoid usage fees and penalties. It comes preconfigured with standard license terms and allows users to enter new license text and cost information on a batch or individual-asset basis.
Use Ratings and Notes to Describe Assets in Detail:
Expo allows users to add ratings and notes to assets to detail sources, projects, versions, alternates, color adjustments, usage instructions-whatever they need to remember. Since notes are often the most important part of asset metadata, Expo indexes and includes their contents when users search for assets.
Expo Requirements, Pricing and Trials:
Expo runs on Macintosh computers running OS X 10.8 (Mountain Lion, Mavericks or Yosemite) or later. Customers can purchase Expo or request a 30-day trial at http://www.insidersoftware.com/. Single-user Expo licenses cost $199 USD, but are available for a limited time at an introductory price of $149.
About Expo:
Expo is a digital asset manager that redefines how web, creative and marketing professionals discover, manage and utilize assets in their projects. By supporting their entire workflow, Expo helps them create better designs, documents, websites, presentations and materials.
About Insider Software:
Insider Software creates asset, font and workflow management solutions for the creative and marketing community, including the FontAgent Pro family of font managers and servers. Its customers include design, web, art, graphics, prepress, print, marketing and creative teams; commercial, education and government institutions; and the largest publishers, film studios, entertainment networks, creative houses and ad agencies worldwide. More information: http://www.insidersoftware.com/.
FontAgent is a registered trademark, and the Insider logo, Expo, FontAgent Pro and Smasher are trademarks of Insider Software Inc.
Twitter: @InsiderSoftware
For questions or comments regarding the above news announcement, contact the company/organization(s) mentioned in the text, and not this website.
Copyright © 2015 CaliforniaNewswire® and Neotrope®. California Newswire is a publication of the Neotrope News Network and a U.S. reg. TM of Neotrope.