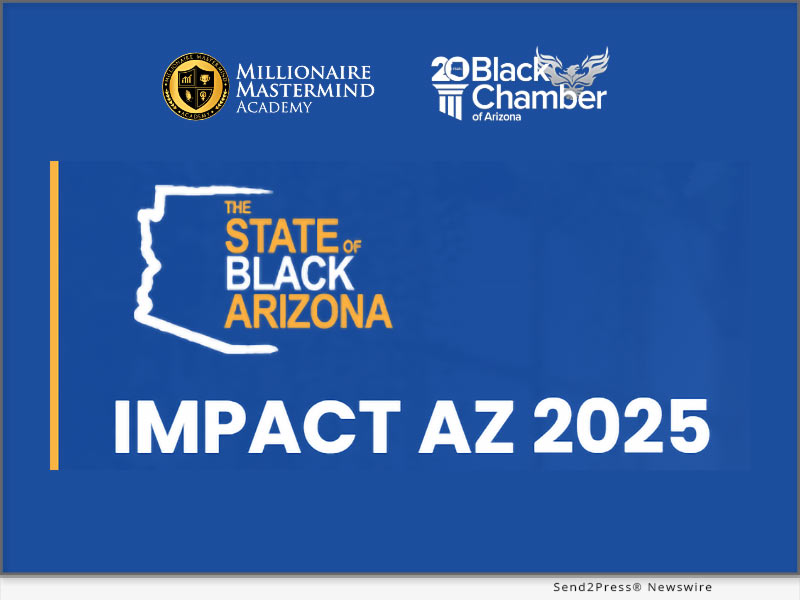 PHOENIX, Ariz., Apr 11, 2023 (SEND2PRESS NEWSWIRE) — Setting the stage for dramatic change among Black-owned Arizona businesses, IMPACT AZ 2025 is kicking off its supplier diversity readiness program to close the racial wealth gap for business owners through a three-year supplier diversity readiness program, Thinkzilla Consulting Group announced today.
The program offers a hybrid of an online curriculum through an interactive e-learning platform with in-person sessions, mentorship and live business coaching. Additionally, business owners a strategic action growth plan with benchmarks and performance targets to access the support and resources necessary to win contracts. The first cohort launches April 24, 2023, in Scottsdale, Arizona, with a full-day business assessment and welcome remarks from major community stakeholders.
The Millionaire Mastermind Academy, a leading nonprofit organization that has helped more than 8,000 diverse women entrepreneurs across the country while addressing barriers to economic mobility, will execute the Impact AZ 2025 programming in partnership with the Black Chamber of Arizona in response to the State of Black Business Report, which highlighted financial gaps and opportunities for diverse business owners.
The solutions-driven accelerator program will expand procurement opportunities with corporations and government entities, preparing business owners to win contracts. Fortune 500 companies spend about 2% annually on minority-owned suppliers, well short of the 10-15% spending goals many corporations set each year, leading to significant improvement opportunities for traditional supplier diversity approaches.
"We are thrilled to be a part of moving the great state of Arizona forward," said Dr. Velma Trayham, founder of the Millionaire Mastermind Academy. "More than 50 local businesses now have access to opportunities and resources that will create job opportunities and economic impact. I look forward to helping more than 250 companies get access to contracting readiness and opportunities. We are incredibly grateful to our sponsors, technical assistance partners, mentors and advisors for making this program possible."
JPMorgan Chase is the title sponsor for IMPACT AZ 2025, with additional sponsorship from Arizona Public Service, Salt River Project, Via West Group, American Landmark Apartments, and community partners such as Greater Phoenix Economic Council, the City of Phoenix, the Arizona Informant, Commerce Bank AZ, Growth Partners Arizona, AIANNH Project NABEDC, operated by the Arizona Hispanic Chamber of Commerce Foundation and SCORE.
"Impact AZ 2025 is groundbreaking for its size and focus on Black entrepreneurs, with clearly measurable metrics focused on advancing Black-owned businesses from solopreneurship to employer-based companies that surpass the $1 million revenue threshold," said Robin Reed, CEO of the Black Chamber of Arizona. "Using data from the State of Black Business report, Impact AZ addresses the most urgent needs for Black-owned businesses today."
The Millionaire Mastermind Academy's Scottsdale office at Arizona State University's Skysong 3 will provide a physical space for entrepreneurs to meet with mentors and corporations as part of the program, which includes three nine-month accelerators. The space will also support collaboration, networking opportunities and round table discussions for business growth.
"JPMorgan Chase is profoundly committed to supporting programs that help close the racial wealth gap and uplifting our Black business and entrepreneurial community is key to achieving that goal," said Ashley Kelly, Senior Business Consultant for Chase in Arizona. "This program will deliver expertise and support to help participants scale and grow their businesses in a sustainable manner. I'm very excited about supporting this collaboration."
"This market cannot fully reach its potential while there are segments of our population underrepresented in high-wage occupations or unable to receive the requisite capital to support innovative business," said Chris Camacho, President and CEO of the Greater Phoenix Economic Council. "This initiative takes a critical step in addressing this disparity, with an actionable, solution-driven approach to leveraging regional connections to support Black-owned suppliers and businesses."
Fifty-two Arizona businesses have been accepted into the program, including:
1st Infinity Realty, LLC | 1st Step to Greatness Childcare and Learning Center | Advanced Professional Security | Agape Mortgage Group | All Are Heard Translation/Notary Service | Alla Herbs | Alyrik's Castle | Artastic Art | Beep Beep Interlock | Bri Bucks Coaching and Credit | Bridge Consulting Service, LLC | Broom Bush Tea Co. | Buddhalovmobile | Business Credit Works | Chanel Your Stylist | Citrines, LLC | Coco B Cares | Connect Consulting Solutions DNA Lifestyles, LLC | Down Syndrome Forgotten| Education FIRM, LLC | Essential IV Drip | Finance Therapy Group | Heal Me Fit | Healing Hands | Oasis Wellness Center & Apothecary, LLC | i see water LLC | Inquisicare | Jenga Haus | Kings Glow LLC| LifeologyAZ, Inc.| Lion Eye Design, LLC | Lionsmanseamoss | Live Like You Coaching, LLC | Ms. Martha's Caribbean Kitchen LLC | N-Ovate Business Solutions, LLC | PhillipRobert LLC | Phoenix Play Dates and Field Trips | Phoenix's Favorite Commercial Cleaner | Phree Tha Truth | Radiant Sky Wellness Center | Risome | Simply Celeste's | Sweeping Broom | The Outlandish Blueprint | Top Onyx LLC | TRUE CONFESSION | Vision World LLC | W3AVING W3BS | Yhorlife Inc | Zion Institute.
"This curriculum provides an opportunity for us to improve the tracking, synthesis and socialization of the actionable data for a paradigm shift in Black business owners' generational health and wealth," said Teniqua Broughton, Executive Director for The State of Black Arizona says. "I am pleased to see this collaboration taking a data-driven approach to finding solutions within our Black business ecosystem in our state for wealth building."
About IMPACT AZ 2025:
IMPACT AZ 2025 is Arizona's largest supplier diversity readiness program designed to close the racial wealth gap of black business owners. Supported by the Millionaire Mastermind Academy in partnership with the Black Chamber of Arizona, IMPACT AZ 2025 is a three-year business accelerator focused on supplier diversity training to grow business opportunities.
For more information, visit https://impactaz2025.com/
RELATED LINKS:
https://millionairemastermindacademy.org/
https://www.gpec.org/blog/regional-report-state-of-black-business-2022/
News Source: ThinkZILLA Consulting
Related link: https://thinkzillaconsulting.com/
This press release was issued on behalf of the news source, who is solely responsible for its accuracy, by Send2Press Newswire. To view the original story, visit: https://www.send2press.com/wire/impact-az-2025-kicks-off-arizonas-largest-supplier-diversity-readiness-program-with-more-than-50-black-owned-businesses/