LOS ANGELES, Calif. /California Newswire/ — Switching to iPhone 8 / 8 Plus is not just getting a new device, it also comes along with the hard task of a plethora of vital data and files migration. Given that, iMobie introduces its robust data transfer program – AnyTrans, to completely brace for data migration between iPhone and iPhone, even from Android to iPhone comprehensively.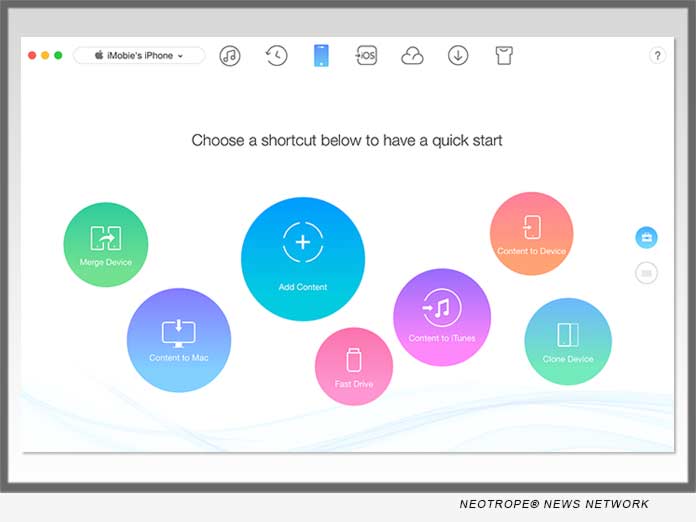 Now, with just 1 click, all data and files – including messages, photos, contacts and more – will be cloned directly to the new iPhone in rapid order. Better still, users can also combine all their essentials from different "iDevices" to their daily-used one; even import what they most need to target device at a blinding-flash speed.
"As the iPhone 8 / 8 Plus is available soon, a simpler and faster solution for data migration is exactly what they're looking for," said Frank Kong, CEO of iMobie Inc. "Regarding this, we have updated our all-around iPhone manager, helping migrate everything between iPhone and iPhone, or even from Android to iPhone. Only 1 tap, all data and files will be copied to the new iPhone in perfect order. Better yet, users now can even gather their scattered but important belongings like photos, music, contacts and more into a daily-used one with duplicates skipped."
Download AnyTrans to move your photos, music, messages and more: https://www.imobie.com/anytrans/download.htm
Move everything important to your new iPhone with 3 flexible ways:
1-Click to Clone All Stuff to Your New iPhone:
No data loss, no boundary, AnyTrans offers you a solution to move everything to your new iPhone with 1-click, no matter from your old iPhone, or from Android phones. Now, all your stuff, including messages, contacts, photos, note, and even settings will be fully migrated into your new iPhone in perfect order, and nothing is left out.
Merge Your Scattered Belongings into the New iPhone:
Still worrying about your scattered data from different iDevices? Just try AnyTrans. Working as a refined yet revamped iPhone manager, it offers you an easier way to combine your scattered but essential content from old iPhone/iPad to your new iPhone, without erasing any data. All your essentials are soon available in your new device, and the duplicates will be automatically skipped as well.
Transfer Only Desired Content to Your New iPhone:
With a re-designed, user-friendly UI, you're fully able to selectively transfer your most desired content from your old iPhone/iPad, computer, or even from your Android phone; like a whole message conversation, photo collection, or a favored song. No need to restart your new iPhone, and all your beloved stuff will be flowed into your new iPhone in seconds.
AnyTrans information: https://www.imobie.com/anytrans
Price and Availability:
AnyTrans is available for Windows and Mac. Licenses available from: https://www.imobie.com/anytrans/buy.htm
*VIDEO (YouTube):