CHICAGO, Ill. — Diabetes is a growing problem and more and more people are striving to cope. As a result, DiabeticSingles announces the launch of their new website which brings together people who have at least one shared known commonality. As of 2007, according to the Centers for Disease Control, 236 million people had diabetes worldwide; 23.6 million or 7.8 percent were from the U.S. population. More recently, the CDC has elevated the classification of diabetes from being an epidemic to a pandemic.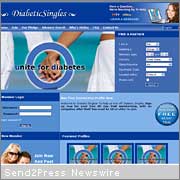 So, what does all this mean? It means that there are a staggering number of people who share the same disease, but may have trouble connecting with each other. In response, DiabeticSingles.com was launched. The founder of the website wanted to create a niche platform for people with diabetes — a place where single people with diabetes could build relationships with other diabetics.
"Diabetes has always been a concern to me," Christy Myatt, founder of DiabeticSingles, explains. "It runs in my family and I have witnessed, firsthand, how dating can often be difficult for people with diabetes due to specific needs and challenges. There are many hurdles to overcome."
A personal desire to create a safe and happy dating environment for people with diabetes, combined with the opportunity to give back to and support the cause, were the catalysts for developing the website.
People with diabetes have unique needs that may seem foreign to others and diabetes plays a large role in their daily lives when it comes to diet, activities, exercise and more. Who better to understand these needs than another diabetic?
"DiabeticSingles is not just another dating site. We stand strongly behind the cause, and provide support within the diabetic community," Myatt adds.
Membership is open to people 18 and older. Members create a profile, upload a photo, and begin building relationships with other members within the DiabeticSingles community.
After becoming a paid member, DiabeticSingles will donate 10 percent of the fee towards one of five diabetes charities that have been predetermined by DiabeticSingles; members choose from one of the five.
For more information, visit: www.diabeticsingles.com.