HOLLYWOOD, Calif. — A piece of floss once used by Paris Hilton, smudged with pink lipstick and found in the trash outside Paris Hilton's Hollywood home, sold Tuesday for an impressive $1,000 US to online Casino, GoldenPalace.com.
The sellers of the floss, HollywoodStarTrash.com, made headlines worldwide and created an online frenzy with a video on YouTube, showing the process of how they acquired Paris Hilton's trash. The trash was put up for auction and the floss was snatched up for $1000 by the same company that purchased interesting items such as William Shatner's kidney stone and Britney Spears' pregnancy test, to name a few.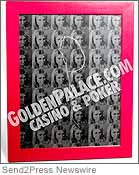 With the money they raise with Hilton's trash, they plan to expand their inventory of Star Trash, and produce a full length documentary.
They recently trashed John Travolta and plan to sell his collection as well. The collection includes 12 empty packets of very expensive beef and a fork in a collectible box. They hope the buzz will get them their final goal – a spot on a major talk show.
Richard Rowe, CEO for GoldenPalace.com hinted that there was interest in the Travolta trash. "We're all fans of Travolta, and who knows, if there is some beef in the packets, we could eat it and then use Paris Hilton's thousand dollar floss," he jokingly said.
More information: http://www.GoldenPalace.com
More Information: http://www.hollywoodstartrash.com
[tags]Paris Hilton dental floss, GoldenPalace casino, HollywoodStarTrash, John Travolta trash[/tags]