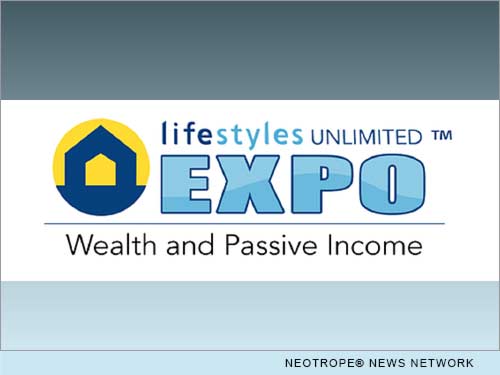 HOUSTON, Texas, Jan. 23, 2015 (SEND2PRESS NEWSWIRE) — Investors from all over Texas and the nation will be gathering at the George R. Brown Convention Center in downtown Houston to learn from the nation's leading experts. On Jan. 31, 2015, Lifestyles Unlimited, a Houston based real estate education company, will be hosting a Wealth and Passive Income Expo that is expected to have over 2,500 people from all over the world in attendance.
This is the third year for the event and it has grown in attendance and popularity each year. This year there will be many expert guest speakers such as: Del Walmsley, Than Merrill, Michael Berry and many more.
Also there will be over 100 national and local vendors for the guests to meet on the convention floor. The event will last only one day where there will be a main stage as well as over 60 breakout rooms where attendees can learn all facets of real estate investing as well as how to gain more deals and more money to invest.
Last year over 2,200 investors attended the all-day expo and this year's registration numbers have far exceeded last year's numbers. We are expecting a record breaking event as the nation's top investors descend on Houston.
To add to the festivities Del Walmsley will be hosting his Annual Multi-Family Roadtrip, a bus tour through Houston to see multi-family properties and meet their expert operators. This will include 180 Lifestyles Unlimited members, from all over the U.S., Del and his Top Team, 4 Buses, National Award Winning Investors, and 4 property stops in the Houston area.
About Lifestyles Unlimited:
Lifestyles Unlimited is the education and mentor group for real estate investors. We've been helping people just like you buy their lives back from corporate America since 1990. We are 16,000+ members strong, including national, state and regional investor of the year award recipients. Our mission is to teach our members how to supplement or replace their earned income with passive income; thereby reducing their dependence on jobs, pensions, social security and savings programs like IRAs and 401(k)s.
More information: http://www.wealthandpassiveincomeexpo.com/ .
Published on CaliforniaNewswire.com Fri, 23 Jan 2015
NEWS SOURCE: Lifestyles Unlimited Inc.
This press release was issued on behalf of the news source (who is solely responsible for its accuracy) by Send2Press® Newswire, a service of Neotrope®.