OSCEOLA, Iowa, Jan 03, 2017 (SEND2PRESS NEWSWIRE) — As part of a new housing development initiative, Osceola, Iowa's Clarke County Development Corporation (CCDC) is offering home builders and developers shovel-ready sites at no cost for residential projects as well as reimbursements on interest for construction loans for a 12-month period. The CCDC launched the Zero-Cost Development initiative in an effort to capitalize on the recent growth trends and development throughout south central Iowa. While tax abatements and other incentives are offered throughout the state, the concept of Zero-Cost Development offers builders and developers a bigger opportunity for establishing profitable programs throughout Osceola.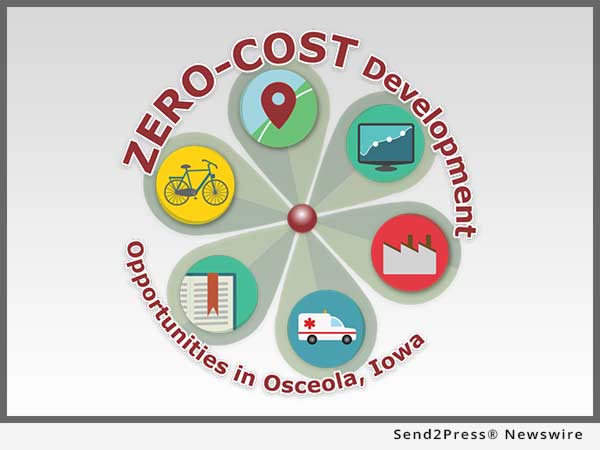 Even with Iowa's housing bubble leveling out and market prices becoming steady, builders are still seeing costs of materials and equipment climb. Tax abatements offered to buyers still leave builders struggling to cover the gap costs between development and sale of the homes. If a home sits on the market longer than 60 or 90 days, many builders can see a considerable loss of revenue and even end up losing profit altogether on the development. By offering the builders and developers Zero-Cost, shovel-ready land, the initial investment for the building is considerably lower and gives an advantage back to the builder before the sale. By also providing reimbursements for construction loans over a 12-month period, the builder can better manage their investment risks – enabling faster return and reinvestment of moneys for additional development.
Over the last decade, Osceola and Clarke County's population and workforce have steadily grown at a time when many rural areas are losing residents in droves. With a population of over 5,000, Osceola offers over 4,400 non-farm jobs, making it a hub for commerce for southern Iowa counties. As commerce continues to expand, a sense of community is growing and the urgency to build homes to suit the burgeoning workforce has become a priority.
"Development Land in Des Moines, Waukee and Ankeny as well as surrounding communities can cost builders upwards of $80,000 to $200,000 per lot. By offering developers free, shovel-ready lots, they're given the opportunity to build quality homes at an affordable price and pass that savings on to the buyers," Bill Trickey, Executive Director of Clarke County Development Corporation stated. "With Osceola's proximity to metropolitan amenities added to a quality of life you can't find in larger cities, developing in Osceola offers safe neighborhoods for children, a sense of community among neighbors, and peace of mind for growing families."
The goal of the Zero-Cost Development initiative is to encourage an economical connection to an estimated 2,500 commuters in Osceola, helping them become not only a permanent asset to the local workforce but be part of the community as well. Research has shown, when families put down roots in Osceola, their children and generations to follow are likely to remain a part of the community.
"The key is giving them the resources to plant roots," Trickey continued.
Employment opportunities and a quality school district are two of the city's bigger selling points. At just under 1,400 students, the Clarke school district is small but advanced beyond even some suburban Iowa schools. The district recently integrated over 1,500 Chromebooks, offering each student a chance to take this technology home. It's an attractive option for families who'd prefer a smaller district without sacrificing quality of technology and curriculum.
Families in Osceola also benefit from several new recreational developments, including an expanding trail system, city parks, and the future development of a community Recreation Center.
Officials hope the Zero-Cost Development initiative will continue to strengthen the area's neighborhoods, encouraging families to call Osceola home.
If you're a builder who is interested in the Zero-Cost Development initiative and would like to see if your project qualifies, contact Bill Trickey at the Clarke County Development Corporation at info@clarkecountyiowa.com or 641-342-2944.
More information: http://www.clarkecountyiowa.com/.
News Source: Clarke County Development Corporation
This press release was issued on behalf of the news source, who is solely responsible for its accuracy, by Send2Press Newswire. To view the original story, visit: https://www.send2press.com/wire/free-land-and-incentives-for-builders-looking-to-develop-in-osceola-iowa/