LOS ANGELES, Calif. — As the old Hollywood adage goes, it's not what you know, it's who you know. This could be the reason Productionpoint.com has become one of the fastest growing online networks for the advertising and entertainment industries.
With leading companies and industry professionals in over 100 countries around the globe, Productionpoint.com is anything but an overnight success story. "We started Productionpoint back in 2000 in the proverbial garage," confides Brandon Hooper, CEO of Productionpoint, Inc.
"Even though we had an innate understanding of the marketplace, it's been our strong user base of professionals around the world and their feedback over the years that's helped build this community."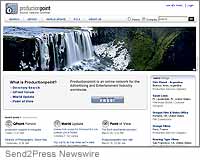 The Productionpoint web portal is home to thousands of businesses and professionals within the international Advertising and Entertainment community. Listings are free on the site and tool-sets include online promoting and networking opportunities.
"It's an amazing Web 2.0 company," states Scott Stephens, Co Executive Producer of HBO's "John from Cincinnati."
"The high quality of the companies and individuals on Productionpoint eliminates the guesswork. I get immediate access to the best and brightest in the industry, whether in L.A., Ohio or Azerbaijan."
More information about Productionpoint can be found at http://www.Productionpoint.com .
[tags]Productionpoint business directory, entertainment industry networking, production point, international advertising community[/tags]