BALTIMORE, Md. — HNP Solutions International (HNPSI), an Agile Software Development firm providing complex commercial and business applications, today announced a new and unique approach to outsourced IT services that provides organizations with complete technical and business transparency. Based on an environment of open communication and using a suite of web-based applications, clients are integrated into the delivery process from day one and have access to the same real-time management tools used by the development team.
"Customers making use of outsourced services have historically been kept 'hidden' from the processes that they have been paying for," said HNP CEO David Hanna, "We felt that bringing openness to the table, and making the client a part of the process not only delivers a faster and better result, but a more cost-effective one as well."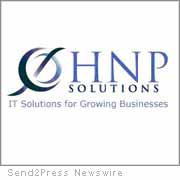 HNP can comfortably provide such an open approach due to its past three years of excellence and candor with its growing customer base. Through a wide variety of project types, from application development to knowledge transfer, HNP enjoys outstanding customer satisfaction and excellent client references. According to one client, Reston Radiology, HNPSIs new approach builds on its proven technology that have helped customers such as Reston Radiology Consultants reduce their IT costs and "future proofs" existing IT systems.
Virginia-based Reston Radiology needed to expand its in-house Radiological Information System (RIS), used for all patient transactions including appointment scheduling, billing and exam management. The RIS system had become outdated and could not be integrated with other systems Reston's physicians relied on for coordinating patient care.
"The RIS is absolutely critical to our day-to-day business and replacing it would have been extremely costly and time-consuming," said Michael Petriella, COO, Reston Radiology Consultants. "HNP Solution International redeveloped and redeployed the existing system, significantly reducing cost and downtime, while our end users realized increased operational performance without having to endure significant additional training."
Pricing and Availability
HNPSI prefers to operate in a fixed-cost, fixed-time manner and all services are available today.
About HNP Solutions International
HNP Solutions International is a worldwide software engineering firm focusing on commercial application and enterprise system development, as well technology migration and architecture remediation. With in-depth experience in dual-shore, agile software development, HNPSI has been the winning choice for many organizations looking for a candid, transparent service provider with a proven ability to deliver top quality software at a fair price.
For more information on Agile Software Development please contact HNP Solutions International at http://www.hnpsolutions.com .