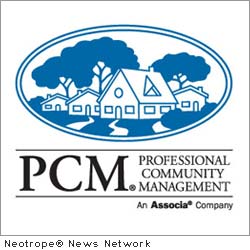 LAKE FOREST, Calif. /California Newswire/ — Professional Community Management of California, Inc. (PCM) announced today that its Field Services Division will assist the Lake Forest Community Association's Community Spirit Team to conduct free home repairs for a family that has experienced tragedy and is in need of help to stay in compliance with HOA rules. On Friday, July 20, they will begin work on the home of Luann Johnson, a resident of Lake Forest who lives with her son, Colin, 23 and daughter, Taylor, 20.
For this homeowner trouble came in "threes." First came the devastating loss of her 25-year old son; a huge eucalyptus tree then crashed through her backyard fence; and third, Riley, her three year-old granddaughter was diagnosed with a rare form of melanoma. After dealing with all the end-of life costs for her son, and trying to arrange for health care for her granddaughter, Johnson was financially and emotionally unable to handle home repairs that put her in noncompliance with the association rules.
"When I spoke with Luann, her son's funeral expenses and her granddaughter's uninsured medical care had depleted her savings," said Kim Back, Community Relations Manager at Lake Forest Community Association. "Even though she was a proud, self-sufficient woman, she needed the good news that her neighbors and community management company were ready to step in, so she does not feel so alone on this journey."
As a private care nurse, Johnson visits patients throughout Orange County and Los Angeles. She has been a Lake Forest resident since 2001, where she raised her three children.
"It's ironic that the Lake Forest Community Spirit Team is now coming into my home and completing much needed repairs," she said. "My family and I are overwhelmed with gratitude. My son, Colin said to me, 'Mom, this is the kind of thing you see happen to other people on TV!'"
The Lake Forest Community Association's Community Spirit Team was formed in April 2012 to assist homeowners who received home repair correction notices from the Hearing Committee. Each case is determined by financial hardship and in June, the team completed their first project at the home of Patrice Munday.
"PCM takes such pride in the dedication and initiative taken by the Lake Forest Community Association and the on-site management team," said Donny Disbro, chief executive officer of PCM. "Each home owner is a member of the PCM family and we're here to take care of individuals like Luann who has had more than her share of tragedy."
The team has secured generous donations and sponsorships from the association board of directors, PCM Field Services, Home Depot Lake Forest, Park West Landscape, Waste Management, Behr Paints, Saddleback Signs, Cannata Construction, Drymaster Restoration, McGervey Painting, First Class Windows and the Lake Forest Garden Club.
Johnson gets emotional when she thinks of the Community Spirit Team preparing to start work on her home.
"My late son was the one who would come over and fix things," she said. "I know he's watching over me and smiling."
To contact the Lake Forest Community Spirit Team or contribute to the fund, please contact Kim Back, Community Relations Manager at 949-837-6100, or kback@pcminternet.com.
For more information about PCM Field Services and to learn how they can assist a homeowners association, please contact Sue Evans, Director of Management Services at 800-369-7260.
About Professional Community Management of California, Inc.:
Professional Community Management of California, Inc. (PCM), an Associa company, specializes in the management of Common Interest Developments of homeowner associations for family oriented master-planned developments, resort-style master-planned communities, active-adult master-planned communities, condominium associations and boutique communities throughout Southern California and Southern Nevada.
With headquarters in Lake Forest, Calif., PCM and its companies employ a staff of more than 1,500 people. PCM has offices in serving all of Southern California and Southern Nevada and is recognized by the Multi Housing Council as one of the county's largest managers of common interest developments. Management services by PCM are backed by state-of-the art Internet technology and comprehensive financial and management systems. For additional information, please contact PCM at 800.369.7260 or at http://www.pcminternet.com/ .
About Associa:
Building successful communities for more than 30 years, Associa is North America's largest community association management firm and serves its clients with local knowledge, national resources and comprehensive expertise. Based in Dallas, Associa and its 8,000 employees operate more than 150 branch offices in the United States, Mexico and Canada. To learn more about Associa and its charitable organization, Associa Cares, go to www.associaonline.com and www.associacares.com. Find us on Facebook, follow us on Twitter and watch us on YouTube.
Copyright © 2012 CaliforniaNewswire® and Neotrope®. California Newswire is a publication of the Neotrope News Network and a U.S. reg. TM of Neotrope.