Sales also benefit children's charity, Art With A Heart For Children
TRABUCO CANYON, Calif. — While most 7 year old girls are just learning to put on their own t-shirts, one special girl is busy creating them. Haley Schmidt at just 7 years old might be the youngest t-shirt designer in the country with her new line of fashionable children's t-shirts titled HaleyBopTees.
For certain this 7 year old is the most popular t-shirt designer of her age group, with t-shirts featured at the online store TheFrap.com and sold at Out Of The Bleu, a children's clothing boutique in Foothill Ranch, California.
Haley Schmidt from South Orange County, California designs all the HaleyBopTees that end up for sale in the retail and online stores. There are more than enough designs to meet the needs for any young girl's taste.
With over 15 styles available on TheFrap.com website, selecting the right HaleyBopTee is as easy as clicking the order button. The t-shirts come in a variety of sizes and styles, including limited edition tie dyed shirts. Prices range from $22 for the white Princess Pinwheel shirt to $28 for the limited edition Roses in Hand tie dyed t-shirt.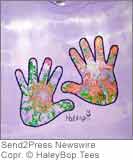 HaleyBopTees are not your run of the mill children's apparel. When it comes to the look, these tees are designed with the child in mind rather than the parent. HaleyBopTees offers whimsical designs that give kids a fun way to express themselves. HaleyBopTees are not only fashionable but also totally unique since they are designed by a peer instead of an adult.
All HaleyBopTees are given Haley Schmidt's signature before hitting the online and brick and mortar shelves, literally. Each design that graces these children t-shirts includes Haley Schmidt's actual signature in the print, making them all the more authentic for the child wearing it to enjoy.
The only thing more remarkable than the talented 7 year old Haley's designs is her commitment to charity. HaleyBopTees donates $1 from the sale of every t-shirt to: Art With A Heart For Children, "Healing Children's Bodies and Spirits Through Art" This is a natural partnership for such a talented young artist as Haley has proven through her t-shirt designs.
For more information on HaleyBopTees please visit http://www.TheFrap.com .
For more information on HaleyBopTees charitable partner please visit http://www.artwithaheart.info .
[tags]Haley Schmidt, HaleyBopTees clothing, Out Of The Bleu, children clothing boutique, Trabuco Canyon news[/tags]