ANAHEIM, Calif. — 300 lucky guests of the Wedding Channel Couture Show will receive a special limited edition T-shirt designed for the show by HaleyBopTees. Taking place at the Waldorf=Astoria in New York City on October 21st, the Wedding Channel Couture show is set to feature today's top wedding designers including famed wedding gown designer Junko Yoshioka.
Those attending the Junko Yoshioka Runway Show will receive a special surprise from one of fashion's youngest up and comers.
HaleyBopTees, a label out of Orange County California produces art inspired T-shirts that are as unique as they are fun to wear. With easy on the eyes colors, and powerful designs, the shirts have been wildly popular. To many people's surprise, the designer of these shirts is a 7 year old girl.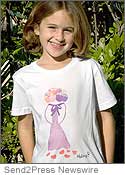 Haley Schmidt the 7 year old behind the artful shirts designs each shirt with her own creative flair. For the Junko Yoshioka Runway Show Limited Edition T-shirt, Haley Schmidt turned to one of her favorite fashion design tools, water colors. The shirt was designed with water colors, depicting a wedding gown and flowers in youthful colors.
The shirt will be included in the gift bags for the attendees of the Junko Yoshioka Runway Show portion of the Wedding Channel Couture Show. Junko Yoshioka is world renowned for her unique and elegant designs. Her designs have been worn by Jessica Alba, Claire Forlani, Anna Paquin, and Katherine Heigel.
HaleyBopTees is also selling the limited edition T-shirt on its website. The HaleyBopTees line recently released 2 new styles to complement the other best-selling shirt designs of the past year.
For more information on the label or to purchase a T-shirt visit http://www.HaleyBopTees.com
[tags]HaleyBopTees clothing, Haley Schmidt, Wedding Channel Couture show[/tags]