HIGH RIDGE, Mo. — On March 1st, Green Stuff Connection officially opened for online business, offering customers the best in high quality, fashionable clothing, home goods, personal care products and more. Once just a dream of founder Hilda Orosco-Frank, www.greenstuffconnection.com has become a reality! Green Stuff Connection is designed to be THE place for green-minded people to shop for fashionable (men's, women's and children's) clothing as well as, earth friendly and natural home and body products!
Orosco-Frank says, "As a Hispanic, woman owned business, Green Stuff Connection was founded with a genuine desire to lead by example within my community, and also teach my daughter's the importance of treating our earth with respect. Along with personal lifestyle changes, Green Stuff allows me to make a career out of providing my family and others with safe and trendy products. My goal is to be a favorite online source of cool green stuff!"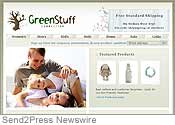 As an exclusively online retailer, Green Stuff Connection is committed to maintaining high style and 100% integrity with all of its customer relationships. Operating out of High Ridge, MO, Green Stuff Connection resells products from many trendy, Eco-Friendly companies, including: Of the Earth, Twice Shy, Blue Canoe, Erbaviva, Organic Fiji, Kate Women's Organic, High Desert Naturals, MiYim, Sigg, Hovey Lee Eco Jewels, Fleurville, Little Earth, Bossy Baby, Positively Organic, Sckoon and Something Wicked Candles. Product lines include organic cotton clothing, belts and purses made with recycled materials, Eco-Friendly home and body products, and much more!
Green living tips and online resources are also available on Green Stuff Connection's website and quarterly blog. www.greenstuffconnection.blogspot.com.
Green Stuff Connection is a proud member of the Organic Trade Association, Co-Op America and One percent for the planet. "Organic clothing and green, Eco Friendly fashion are now part of mainstream consumer consciousness," says Orosco-Frank. "People want to do their part to help the environment, and Green Stuff Connection can help! It's a very important time in our history. We must all take action and as a minority business owner, it is my goal to pave the way for everyone on this planet who wants to make a difference."
All trademarks acknowledged.
Send2Press(R) is the originating wire service for this story – www.Send2Press.com.
NEWS SOURCE: Green Stuff Connection