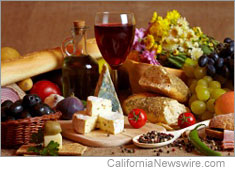 IRVINE, Calif. /California Newswire/ — Enjoy an all-day celebration of artisan food, sustainable gardening and creative art at the Great Park's first ever Artisan Food and Arts Festival on Saturday, April 28 from 11 a.m. to 5 p.m at The Orange County Great Park. Local chefs and artisans will be on hand to demonstrate delicious fresh dishes from local foods, bread baking, jam, cheese and soda making, and refrigerator pickling.
Learn how to raise your own chickens in your backyard and harvest fresh eggs, and all about composting and aquaponics. Enjoy sampling food from local restaurants and many of your favorite gourmet food trucks. Visit the nearby Palm Court Arts Complex where the Imagination Celebration will be in full swing, featuring art exhibitions that are exclusive to the Great Park.
"The Artisan Food & Arts Festival will inspire creativity learning and wellness. Visitors will leave with knowledge about living more sustainably and creatively," said Beth Krom, Chair, Orange County Great Park Board Corporation. "We are proud to present this event in partnership with Arts Orange County and Imagination Celebration and with support from Slow Food Orange County, the Foundation for the Great Park, and the UCCE Master Gardeners."
The festival will take place at historic Hangar 244, the Back 40 lawn area, Farm + Food Lab and the Palm Courts Arts Complex. Admission and parking are free.
At the Palm Court Arts Complex, hear Lyricism and Virtuosity, the closing recital sponsored by the Foundation for the Great Park, featuring the Iryna Krechkovsky/Kevin Kwan Loucks Duo, learn collage making inspired by fruits and vegetables from artist Margie Zuliani at the Taste of Art, see the final installation of Artist-in-Residence Amy Catarina's 9 X 19- foot Palm Tree Cozy, and enjoy Marks on the Land – A View From Here, Aerial Photography by Tom Lamb exhibition in the Great Park Gallery.
The Orange County Great Park is located at Sand Canyon and Marine Way, and can easily be reached by the 5 or 405 freeways. For more information, please visit www.ocgp.org .
About the Great Park:
The Orange County Great Park, with its more than 1,300-acre master plan, is the focal point of the redevelopment of the publicly-owned portion of the 4,700-acre former Marine Corps Air Station, El Toro. The Great Park features an iconic tethered helium balloon that rises 400 feet in the air, providing an aerial view of Park development. Other features include the Carousel, Farm + Food Lab, Kids Rock Playground, Walkable Timeline, Palm Court Arts Complex, North Lawn recreation area and historic Hangar 244. The South Lawn lighted soccer fields and Community Garden will be added in 2012