MONTCLAIR, Calif. — Immerse yourself in the vibrant and colorful Vedic Era! Experience the celebrations and ceremonies of India, western and world music and fun family entertainment, for three energizing and joyful days at the Grand Consecration of a Vedic Temple. Join us at the new Nithyananda Vedic Temple, Nov. 9th – 11th at 9720 N Central Avenue, Montclair CA, 91763.
Come, experience the grandeur and bliss of the Vedic Era! 48 hours of continuous Vedic rituals and opening of a University to radiate the enlightening Vedic Sciences. Fall into meditation and commune with the divine as you witness the largest number of tallest deities in North America being infused with divine energy by Paramahamsa Nithyananda, a multi-dimensional Enlightened Master from India. Don't miss this rare, transformational opportunity!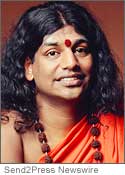 The one-of-kind institution in North America will a seat of higher learning with top notch Vedic Scholars. It will have a rich spiritual library carrying over 100,000 books and house 1,200 very rare and authentic artifacts of the Vedic era. 30 different subjects will be taught on all aspects of Vedic tradition like yoga, meditation, ayurveda, Vedic rituals, crafts like rangoli, henna etc., with over 100 online courses and an E-library. Little Anandas, a weekend cultural school for children will be offered, where they will discover the Vedic truths in a fun environment. This bastion of Vedic culture and tradition in the West, aims to raise awareness of the Vedic tradition and usher in a positive impact on global peace and universal brotherhood.
As part of the GRAND celebration, Swamiji will be delivering FREE public discourses on the Shiva Sutras – the essence of meditation – for a continuous and unbelievable 30 days starting November 10th to December 9th. Shiva Sutras are the scriptures given directly by Lord Shiva to Devi, teaching various meditation techniques which help to reach "Shiva Consciousness." When meditated upon they can take your mind on a direct path to the state of Enlightenment (complete self-realization – every moment brings new beginnings and new truths).
NITHYANANDA is a young, multi-dimensional, Enlightened Master from India whose popularity has exploded over the last seven years and awakened the hearts of millions of followers. His ground-breaking and dynamic techniques are transforming lives world wide. His goal is to create a blissful society, to spread the knowledge of the enlightening Vedic Sciences and in turn pave the way to creating peace in the individual, the country and the world. Currently there are over 1,000 centers in 30 countries, 30 Nithyananda Meditation Academies and 2 Universities.
The bliss continues to expand at an incredibly rapid pace. Be a part of it!
For more information, visit: http://www.NithyanandaVedicTemple.org
[tags]Nithyananda Vedic Temple, Montclair California, Enlightened Master from India, the Shiva Sutras[/tags]