INDIANA, Pa., March 6 (SEND2PRESS NEWSWIRE) — Gorell Windows & Doors has again been recognized as the only window manufacturer in the country to receive the prestigious ENERGY STAR(R) Partner of the Year "Sustained Excellence" Award. Gorell received the award for the third consecutive year-from the U.S. Department of Energy (DOE) and the U.S. Environmental Protection Agency (EPA)-for its continued leadership in protecting the environment through energy efficiency.
The Sustained Excellence Award is bestowed only on organizations that have won the ENERGY STAR Partner of the Year award three or more consecutive times. 2008 marks the fifth consecutive year that Gorell has been recognized as "Partner of the Year."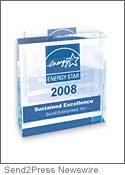 "We are proud to recognize Gorell's continued efforts with the 2008 ENERGY STAR Sustained Excellence award," said Robert J. Meyers, principal deputy assistant administrator for EPA's Office of Air and Radiation. "Year after year partners like Gorell are examples of the benefits of a long-term commitment to energy efficiency. Their actions are leading the way in saving energy and helping to protect the environment."
The "Sustained Excellence" award reflects Gorell's exceptional record of manufacturing "green" ENERGY STAR qualified products as well as the company's work in promoting the ENERGY STAR program. The DOE and EPA also recognized Gorell for consistently exhibiting leadership, achieving aggressive goals, employing innovative approaches and showing others what can be achieved through energy efficiency. Award winners are selected from thousands of organizations that participate in the ENERGY STAR Program. Other Sustained Excellence winners include General Electric, Whirlpool Corp. and Sylvania Lighting. Gorell's accomplishments will be honored at an awards ceremony in Washington, D.C. on April 1, 2008.
"To receive the Sustained Excellence Award again-and to consistently be named ENERGY STAR Partner of the Year-says a lot about Gorell and the products we make," said Wayne Gorell, Gorell's President and CEO. "More than an astounding 94 percent of the windows we manufactured in 2007 qualified for the ENERGY STAR label because our windows are designed and made exceptionally well. We are committed to being a 'green' company-protecting the environment and partnering with ENERGY STAR is an important part of this process."
Since its inception in 1993, Gorell Windows & Doors has made energy efficiency a top priority in every facet of its business. The company continues to work hard to be an environmentally responsible "green" manufacturer and reduce its carbon footprint. Gorell windows and doors are made of vinyl, a sustainable, environmentally friendly material. The company's manufacturing facilities and processes are friendly to the environment, and it makes every effort to reuse and recycle materials. Gorell continuously strives to produce the most energy-efficient products available because it recognizes the value this brings to homeowners-and to the country. Gorell also educates its employees, dealers and consumers to ensure that they have a clear understanding of the benefits ENERGY STAR labeled products provide.
Gorell manufactures dozens of different energy-efficient window designs and offers six high-performance Low-E glass systems that feature double- or triple-insulating glass, low-emissivity coatings and inert gas fill between the panes. Every Gorell vinyl window or door that incorporates one of the company's optional Low-E glass systems qualifies for the ENERGY STAR label.
Gorell manufactures vinyl windows for replacement and new-construction applications, patio doors, and aluminum storm windows and doors. In addition, Gorell manufactures a full line of deluxe patio rooms offered through its Grand Additions subsidiary. Recognized as one of the most innovative and fastest growing manufacturers of windows and doors in North America, Gorell is consistently recognized for its high product quality and excellent customer service.
For more information about Gorell and ENERGY STAR, visit http://www.gorell.com.
All trademarks acknowledged.