FREDERICK, Md. — With less than two weeks to Valentine's Day, Internet jewelry sales leader Jamesallen.com announced today that it has added 150 new gold and diamond pendants and lockets to its online jewelry offerings. These stunning gifts – with many gold and diamond variations available – offer both value and higher-end shoppers many options as Valentine's Day approaches.
"Jamesallen.com is pleased to offer these special Valentine's Day pendants and lockets to our loyal customers, as our way of carrying on and adding to this rich, storied holiday tradition of expressing our appreciation to our loved ones," stated Marketing Manager Raz Barr.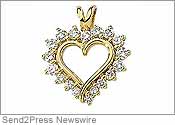 Pendants and lockets for Valentine's Day are being offered in 14K white gold, yellow gold and two-tone, so it is easy to find jewelry pieces perfect to suit all tastes, Barr said.
Shoppers with all types of budgets will find plenty of items from which to choose: Prices range from $100 to $2,000, and all pendants will include a complimentary 18-inch gold chain.
The traditional day on which partners show their love for each other, the holiday dates to the Middle Ages, However, the modern tradition of Valentine's Day and gift-giving of jewelry, candy and flowers dates to 1847. This was when the first mass-produced valentines of embossed paper lace were produced by a Worcester, MA, book and stationery store. Since then, Valentine's Day has grown into the second-largest card and gift-giving holiday of the year, after Christmas. In the 1980's, giving diamonds and other jewels for Valentine's Day became popular.
"These beautiful pendants and lockets tie in perfectly with the long-standing Valentine's Day tradition of showing our appreciation for our loved ones, and we believe will help to make a vivid and memorable holiday for both the giver and receiver," said Barr. Read more about what our customers say about us at http://www.ivouch.com/jamesallen .
James Allen is the only online retailer to feature over 15,000 unique diamond photographs. Each diamond can be viewed with our Virtual Loupe(TM) to see its inclusion with magnification of up to 28X actual size.
Founded in 1998, Jamesallen.com offers the world's most beautiful diamond jewelry and engagement rings coupled with the finest laboratory graded diamonds, all at an extraordinary value. The company is regularly featured in trade magazines such as "National Jeweler" and has been profiled by such famous publications as "The Washington Post" Newspaper, "NBC News", "US News & World Report" and "National Public Radio." The firm may be reached at: 1291 Riverbend Way, Frederick, MD 21701, phone: 877-826-9866. Their website is http://www.jamesallen.com .