LOS ANGELES, Calif. and LONDON, England — BETA Records, the online record company, officially launched BETA Records UK (www.betarecords.co.uk) on September 1, opening a London office and a portal for music lovers and artists of every style. Following the success of BETA Records in the USA, Germany and Mexico, company founders Chris Honetschlaeger and Georg van Handel are moving forward with creation of an interconnected online community for the sharing of musical and social experiences. Additional expansion is planned with pending deals in the Netherlands and China expected by year-end.
"BETA Records is opening its online portal to singers, songwriters, instrumentalists, bands and fans everywhere, but with the additional advantage of local land-based operations, expanding global distribution channels and new revenue opportunities across BETA's multiple ecosystem platforms," states Honetschlaeger.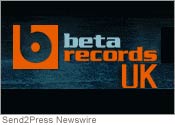 "By combining online's social interaction with the personalization of local facilities, BETA Records offers the best of both worlds to everyone who makes or enjoys music," van Handel states. "We love being an online record company, but there are many advantages to having terrestrial operations, including recording studios, mobile recording facilities, A&R representatives, video and broadcast professionals, and distribution channels," van Handel added.
"Unsigned artists joining BETA Records receive their own personal Web presence, complete with hosting of songs, photos, biographical and contact information, and a wide variety of additional features, including opportunities for networking, studio appearances, live shows, airplay on BETA Radio (www.BETA.fm), and presentation to decision-makers throughout the fields of music, motion pictures, television, radio and live venues," says Honetschlaeger.
"Every advancement in technology, recording, distribution and promotion at BETA Records brings independent artists closer to enjoying all the advantages formerly reserved for artists on one of the four major record labels," notes Chris Harper, BETA's Chief Experience Officer.
About BETA Records:
Blending 21st century digital technology with traditional brick-and-mortar approaches, BETA Records is both online and terrestrial. Using a growing network of offices, BETA finds, produces, and showcases unsigned artists and distributes content to fans globally.
More information: http://www.betarecords.co.uk
[tags]music lovers and artists, BETA Records UK, Online Record Company, indie bands and record labels, music promotion and distribution, social music portal[/tags]