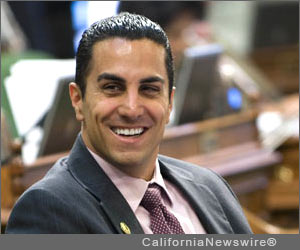 SACRAMENTO, Calif. /California Newswire/ — In some California cities, including the city of Glendale, residents are prohibited from installing synthetic grass or artificial turf to reduce water consumption. When Assemblyman Mike Gatto (D-Glendale), the principal co-author of last year's California Water Bond and numerous other water-efficiency bills, heard from KABC's Elex Michaelson that cities in his district were fining constituents for replacing water-intensive lawns with realistic looking synthetic grass, he amended AB 1164 to provide relief to residents. Today, the Senate Committee on Natural Resources & Water approved the bill by a 9-0 vote.
AB 1164 would prohibit local governments from banning water-conscious landscaping at private residences, so long as the landscaping meets certain stylistic and water-permeability standards. The legislation also creates an incentive program for homeowners who voluntarily replace their grass lawns with drought-resistant landscaping, including native plants and artificial turf, among other mechanisms. As California enters its fourth consecutive drought year, Assemblyman Gatto wants to protect homeowners who install water-efficient landscaping, and encourage others looking reduce urban water use to do the same.
"Californians are doing their best to protect our state's precious water resources when they spend their own hard-earned money to invest in water-efficient technologies," said Gatto. "Intruding on a homeowner's private property and fining them for doing the right thing sends the wrong message and is counterproductive to our water-saving efforts."
AB 1164 is Assemblyman Gatto's latest in a years-long series of bills aimed at water conservation. Last year, he authored AB 2282, which required California to adopt building standards for recycled water in newly constructed commercial and residential buildings. That same year, Gatto carried AB 2636, a measure that created the CalConserve program, a $10 million revolving-loan program to finance water-efficiency projects for home owners and businesses. Other water-efficiency legislation by Gatto includes AB 2230 (2012), which requires all new carwashes to use 60% recycled water, and AB 849 (2011), which fostered the use of graywater technology, both of which are considered pioneering legislation drafted with forethought and prior to the drought.
"AB 1164 empowers Californians to go beyond standard water saving efforts like shorter showers and efficient-flush toilets, and make more long-term investments in their homes to conserve water," explained Gatto. "With 60% of residential water going to lawns and other outdoor uses, it's time for government to stop being part of the problem. This legislation will allow water-conscious residents to diversify their water-saving efforts."
Mike Gatto is the Chairman of the Consumer Protection and Privacy Committee, and the longest-serving current member of the State Assembly. He represents California's 43rd Assembly District, which includes Burbank, Glendale, La Cañada Flintridge, La Crescenta, Montrose, and the Los Angeles neighborhoods of Atwater Village, East Hollywood, Franklin Hills, Hollywood Hills, Los Feliz, and Silver Lake. www.asm.ca.gov/gatto