Liquid Vitamin Supplement Used by Over 10,000 NCAA Athletes As Safe Product To Promote Peak Performance
LOS ANGELES, Calif. — Full Performance Fitness Inc. (www.FullPerformanceFitness.com) has signed a deal with new Detroit Red Wings defenseman Garrett Stafford. Garrett is a Los Angeles native, but played in the northeast growing up. He finished the regular season as the Sharks top scoring defenseman and T-8th among AHL blueliners with 41 points. In '03-'04 Garrett was selected to AHL all-rookie team and honored as ASL 2nd team Al-Star. Garrett is already giving back to the community, which got him to where he is, by conducting Future Pro Hockey Camp, instructing youth players in the fundamentals of hockey.
Garrett has been using the First Step for Energy liquid vitamins for the last year and half and has this to say about it. "To compete at the level I do, it is imperative that my nutrition is top notch at all times. That is why I choose 1st Step for Energy liquid multi-vitamins. They give me the energy and nutrition I need to push myself at all times. I can push it hard and recover quickly, and I consistently have the stamina that I need to compete."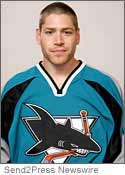 As part of Garrett's contract with Full Performance Fitness he submits to regular drug testing to demonstrate his commitment to clean, safe workouts that produce peak physical performance and results.
In addition to depending on the liquid multi-vitamin, Garrett also depends on the liquid glucosamine and chondroitin to keep him loose and limber, despite all the pounding that he gets. He also loves the new liquid B-12 to help keep his energy and stamina level at 100%. He has always been known in his circles as a workout guru, committed to using only safe supplementation. He encourages all young athletes to keep it clean, and get to their best, through hard work and proven products. First Step for Energy has been tested and certified by Informed Choice (www.informed-choice.org) to be free from banned substances as defined by the World Anti Doping Agency.
Full Performance Fitness has over 10,000 elite athletes using their nutritional supplements. FPF's athletes and coaches rave about the effectiveness of the product in helping them reach their goals. They are able to work out hard and recover quickly, which enables them to hit it hard again. The commitment to training clean and playing a game based on physical prowess and fitness is important to these athletes. Winning is just as important, which is demonstrated by the number of BCS championship teams that use the First Step for Energy liquid vitamins – such as Florida, Texas Longhorns, Ohio State, Louisiana State, to name a few.
Vitamins and minerals are the basic foundation of proper nutrition, which keeps the organs working at maximum efficiency and effectiveness. Scientific studies have shown that pills and capsules do not digest or absorb into the system well, resulting in waste. However, liquids provide much better absorption and retention in the body. Many people have trouble swallowing pills and capsules and 1st Step for Energy delivers a full day's recommended allowance in just one, great tasting, ounce of liquid.
Full Performance Fitness Inc. is the marketing arm for High Performance Fitness Inc. that created 1st Step for Energy in 1997 and oversees production. There are currently over 150 university sports programs as well as professional teams and Olympic athletes using the product. There are 71 pharmaceutical-grade vitamins and minerals in a water base with a "citrus burst" natural flavoring. More information as well as pictures of Garrett Stafford is available at http://www.FullPeformanceFitness.com. To order visit the website or call 1-866-357-STEP, 1-866-357-7837.
[tags]Full Performance Fitness Inc, Detroit Red Wings defenseman Garrett Stafford, High Performance Fitness, 1st Step for Energy, First Step for Energy liquid vitamins[/tags]