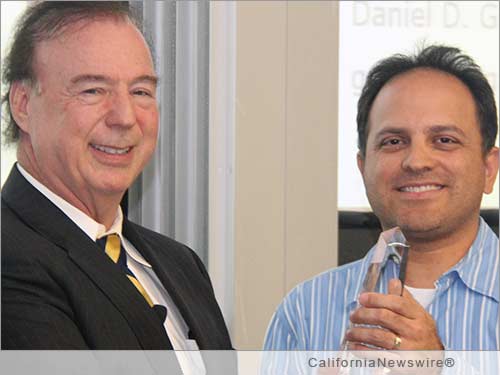 LOS ANGELES, Calif. /California Newswire/ — Galorath Incorporated, creator of SEER project estimation software, today announced that it has awarded its 2014 Estimator of the Year honor to Dr. Ricardo Valerdi, professor at the University of Arizona. Galorath's SEER Software helps companies estimate and control project costs, risks, quality and duration.
The company has awarded Estimator of the Year honors since 2008 to individuals with noteworthy contributions to the science of estimation.
Dr. Valerdi invented one of the models used in SEER software: COSYSMO. And after years of cost modeling research, he was inspired to use his work to develop a program called the Science of Baseball. His program uses empirical analysis of baseball statistics to ignite middle school students' interest in math and science. "Seeing these kids demonstrate an increased interest in the math and science behind the perfect swing of a bat is enchanting," said Dr. Valerdi.
Since inception, more than 1,000 students have participated in the program. The Arizona Department of Education and the Arizona Diamondbacks were among the first to participate and it has since drawn interest from the San Diego Padres, the Los Angeles Angels of Anaheim, the Washington Nationals, and the Boston Red Sox. More information on the history of Dr. Valerdi's program can be found here: http://www.galorath.com/wp/presenting-the-galorath-estimator-of-the-year-dr-ricardo-valerdi.php .
Dr. Valerdi teaches cost estimation, systems engineering, and a course on the science of baseball at the University of Arizona. Through his affiliation with Galorath Incorporated, he provides his students with academic licenses to use SEER by Galorath software. This enables them to learn to use these tools and apply them to real projects, giving them an advantage when they enter the job market over graduates who have to learn cost estimation on the job.
"In addition to Dr. Valerdi's superb contributions to estimation and engineering, he is an incredible human being," said CEO Dan Galorath. This inspiring tale of contribution is why Galorath chose Dr. Valerdi as Estimator of the Year.
About Galorath Incorporated:
Galorath Incorporated has invested more than two decades developing solutions to help government and commercial organizations plan and manage complex software, hardware, electronics, manufacturing and IT projects. Its suite of SEER applications is the most comprehensive project estimation and management solution in the industry. For more information, visit: http://www.galorath.com/ .
For questions or comments regarding the above news announcement, contact the company/organization(s) mentioned in the text, and not this website.
Copyright © 2014 CaliforniaNewswire® and Neotrope®. California Newswire is a publication of the Neotrope News Network and a U.S. reg. TM of Neotrope.