SAN FRANCISCO, Calif. — Socializr, Inc. is a three person San Francisco startup founded by Friendster creator Jonathan Abrams. Ticketmaster, owner of event invitation service Evite, has threatened to sue upstart competitor Socializr for alleged copyright infringement.
The letter from Ticketmaster's lawyers claims that an image in one of Socializr's event designs featuring snowflakes is too similar to an Evite design that includes a different piece of artwork that also contains snowflakes (see image below). The letter also claims that Socializr "infringes upon Evite's copyrights due to similarities in website look and feel."
"I'm puzzled by these odd claims," said Jonathan Abrams, founder of Socializr, "But I am flattered that a multi-billion dollar company like IAC is so scared of our little company."
Evite is a nine year old event planning website that was acquired by Ticketmaster/InterActiveCorp in 2001. InterActiveCorp is publicly traded on NASDAQ with a market capitalization of over $10 Billion. InterActiveCorp owns numerous Internet businesses such as Ask Jeeves, Citysearch, CollegeHumor, Expedia, Hotels.com, and Match.com in addition to Evite and Ticketmaster.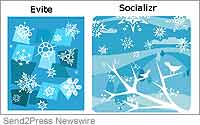 In 2003, Evite announced in a statement to CNET News.com "Evite 2.0 … will mimic social networking sites, such as Friendster, with the introduction of personal profiles, called 'My Info' pages, and bulletin board messages. … This new version of Evite (Evite 2.0) will then become a close competitor to Friendster, Craigslist, Emode, Meetup, etc.," [Source: "Friendster rivals merge; Evite enters", CNET News.com, November 13, 2003]
On April 20, 2007, Ticketmaster sued popular online marketplace StubHub for interfering with Ticketmaster's business by selling tickets for the Lynyrd Skynyrd/Hank Williams Jr. "Rowdy Frynds" tour, which Ticketmaster claims exclusive rights to sell.
Supporting materials:
http://mashable.com/wp-content/uploads/2007/04/evite-socializr.png
http://venturebeat.com/wp-content/uploads/2007/04/evite.pdf
About Socializr
Socializr is a free web service for sharing event and party information with your friends. Socializr was founded by Friendster creator Jonathan Abrams and launched on March 16, 2007. Socializr has added numerous features to online event planning such as photos, videos, music, sharing with friends, social networking profile aggregation, and a mobile interface.
More information: http://www.socializr.com
All trademarks acknowledged.
[tags]Socializr social networking, Friendster creator Jonathan Abrams, San Francisco startup[/tags]