Award-Winning Painter Discovers Inspiration in His Professional Graphic Design Accomplishments
DUXBURY, Mass. — One informs the other; the other informs the one. "As an abstract painter, I am very influenced by my life's work as a graphic designer. Alternatively, my approach to painting impacts my design work in a way that makes it richer and more interesting," explains artist Robert Cipriani (www.robertcipriani.com), whose abstract painting, Red 2, received an honorable mention award at the Cambridge Art Association's "Red" show in November 2007.
Only five awards were selected by judge Jane Farver, director of the MIT List Visual Arts Center, out of nearly 600 pieces entered by artists throughout New England.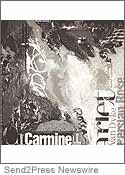 Drawing many parallels between design and abstract painting, Cipriani says the two involve conceptual "solutions that flow naturally from well-defined objectives." Both are derived from a passion for creativity and discovery and the use of color, format, line, and texture for representation, emotion, and effect.
"I approach all of my work with the objective of being spontaneous and precise at the same moment," he says. "All within the halo of a consistent vision."
Cipriani expresses himself in multiple outlooks and mediums in both design and painting. His need for experimentation has led to a variety of titled painting series, including "Cyclops," completed with only one seeing eye due to a temporary impairment; "Hemingway," inspired by the author's powerful and evocative novel titles; and "Totem," loosely based on the forms of Native American totem poles. "I experiment with short series of paintings, then move on and try others. Occasionally I pause and do an extended series," he says.
These paintings are crafted in mixed media-acrylics, modeling mediums, and collage-and are often heavily built up, over-painted, scribed, and somewhat sculptural. Despite the abstract series' different looks, the creative process is the same.
About Robert Cipriani: A graduate of Rhode Island School of Design (RISD), Robert Cipriani is both a professional artist and a noted graphic designer. He has won over 800 regional, national, and international design awards. His paintings are represented by numerous galleries and have garnered a variety of acclaim, including an "Artist of the Year, Painting" designation from the Cambridge Art Association and the "Director's Choice: Best Cape Cod Landscape" award at the 2007 Juried All Cape Cod Show. In April 2009, his abstract paintings will be featured in a solo exhibition, curated by Michael Giaquinto, at the Cape Cod Museum of Art in Dennis.
To view paintings in Cipriani's abstract series, visit http://www.robertcipriani.com/press.html and click on Abstract News Release.