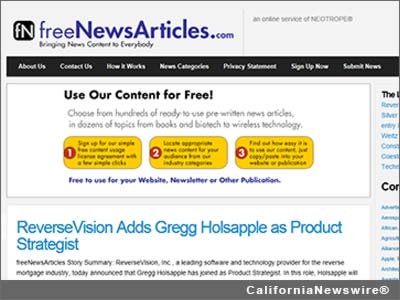 TORRANCE, Calif. /California Newswire/ — Neotrope today announced updated "food for content marketing" available on Free News Articles(TM), an online resource launched in 2005 providing no-cost idea starters for bloggers, newsletter editors, and modern content marketers. With the explosion in the content marketing field, savvy bloggers can get tons of quick ideas in one place.
Free News Articles charges no fees for use, and offers thousands of free news "articles" which can be copy-pasted, or excerpted for content marketing on company blogs, for career bloggers, and even printed newsletters used by REALTORS(R) or HR departments.
While a large amount of content may be niche specific or, in some cases, time sensitive, there are a vast variety of topics from books and music, to technology and science innovations; as well as the normal business news announcements.
"We re-launched FreeNewsArticles.com last year after a several year hiatus, and we've seen a large increase in traffic and interest from users due to the explosion of the 'content marketing' field," said Christopher Simmons, CEO of Neotrope(R), a content publishing and marketing firm established in 1983.
Simmons added, "Since we charge no fees to use content, it's a great resource for ideas ready-to-blog or print, but also sources of stories for expanded purposes like feature articles."
Simmons is a member of PRSA and ASCAP, and has been a working journalist since 1984, and formerly served on the annual judging panel for the PRSA "Excellence in Technology Journalism" awards.
To use any content on the portal, a blogger or content marketeer simply needs to fill out a one-time privacy-protected registration form to register for use of any/all content. However, content may not be "scraped" by any content-farms or spam-blogs, per the terms of use.
To learn more, visit: http://freenewsarticles.com/ .
Launched in 2005, Free News Articles(TM) is a service of Neotrope(R). Based in Los Angeles, Neotrope is a content publisher, brand marketing and visibility company, founded Jan. 1983. Neotrope is an INC 5000 listed company (2009), and member of GS1. Neotrope is a registered trademark in the U.S. and elsewhere. All other trademarks acknowledged.
Copyright © 2014 CaliforniaNewswire® and Neotrope®. California Newswire is a publication of the Neotrope News Network and a U.S. reg. TM of Neotrope.