RIVERSIDE, Calif. — The Brass Swan Cosmology, a seminal work of philosophical thought which has been available to the general public and academics worldwide for free download, will not be available for free download after December 31st, 2007, it was announced today by roguewolfinc.
John Pallyn, author of "The Brass Swan Cosmology," has entered into an agreement with Soran Publishing, which will henceforth control all publication and distribution rights.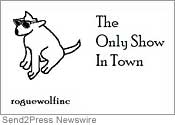 The Brass Swan Cosmology combines elements of Logical Positivism, Zen Buddhism, the scientific method, and political science to create a matrix of Human relationships to their environments, both natural and artificial.
The ten chapters encompass the Human experience without the burden of dogma or myth. The result is an imminently defensible analysis of the Human condition and recommendations for our continued survival.
The Brass Swan Cosmology will be free for download until the end of 2007 at:
www.roguewolfinc.com/thebrassswancosmology.htm .
[tags]Soran Publishing, roguewolfinc, Brass Swan Cosmology, author John Pallyn[/tags]