SAN DIEGO, Calif. — 1st Pacific Bancorp (NASDAQ: FPBN) announced today that Frank J. Mercardante, a member of the board of directors of 1st Pacific Bancorp since July 2007, resigned from the Company's board. Prior to his appointment as a director of 1st Pacific Bancorp, Mr. Mercardante was Chairman and CEO of Placer Sierra Bank and previously was President and Chief Executive Officer of Southwest Community Bancorp since 1998.
Mr. Mercardante expressed his sincere thanks for the opportunity to be associated with 1st Pacific. "1st Pacific is an outstanding organization, and my resignation from their board was only prompted by the new opportunity at Discovery," said Mercardante.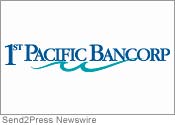 Mr. Mercardante has accepted the position of President and Chief Executive Officer of Discovery Bancorp in San Marcos, California. Discovery Bancorp is the holding company of Discovery Bank and Celtic Capital Corporation.
About 1st Pacific Bancorp
1st Pacific Bancorp is the holding company for 1st Pacific Bank of California, San Diego's leading local business bank. The bank offers a full complement of business products and services to meet the financial needs of professional firms, small- to mid-sized businesses, their owners and the people who work there.
Including its recent acquisition of Landmark National Bank, 1st Pacific Bank has a total of seven banking offices located in San Diego County: one each in the University Towne Center area, the Tri-Cities area of Oceanside, Mission Valley, the Inland North County, El Cajon, La Jolla and Solana Beach.
For additional information, visit the company's website at http://www.1stpacbank.com.
[tags]1st Pacific Bancorp, NASDAQ FPBN, San Diego Business News, Frank J Mercardante, acquisition of Landmark National Bank[/tags]