CARY, N.C. — If getting organized this year is a top New Year's resolution, Innovention Lab, Inc. can help. The company crafts innovative solutions to today's modern problems. Their newest creation – the Internet Password Organizer(TM) (ISBN-13: 978-0615164700) – provides Internet users with a practical solution to password management.
Most Internet users are guilty of jotting down important log-in information on the closest scrap of paper they can find; however, when the time comes to revisit that site and log in, that paper is nowhere to be found.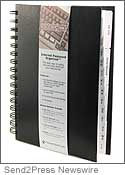 Software and web-based password management solutions are attractive alternatives; however, none are safe from hackers, technical problems or computer breakdowns and usually rely on a single master password to keep the rest safe.
What's the solution? The Internet Password Organizer(TM). This 122-page book provides users with a single, centralized location to store their passwords and features a wire-bound spine for easy data entry. Laminate-reinforced tabbed dividers alphabetically separate the 5.5″ x 8″ pages keeping passwords organized for quick information retrieval.
Each entry includes fields for web page, username, password, and notes. Additional "Bonus" sections store information about the user's Internet Service Provider, Home Network Configuration, Product Licenses, and other indispensable information required to resuscitate a user's computer when crisis strikes.
"We wanted to provide a solution to the most common problem affecting all computer users – how to manage their ever-growing number of passwords," Mark Alexander Barros, President of Innovention Lab, said. "Our conversations with people revealed a common theme. Nothing beats writing your passwords down. The problem is, where? Post-it notes and loose scraps of paper are commonly used, but locating the right one at the right time really hinders work-flow. So people tend to use the 'Forgot your Password' link quite liberally. In fact, for many, that link is their password-management solution. Our goal is to provide a practical way for people to store and retrieve this information and present it in a familiar way."
Innovention Lab is a developer of products, Internet-based services, and software solutions. Their team of scientists, hackers, and computer geeks work tirelessly to create products that solve everyday problems.
The Internet Password Organizer(TM) is available for $19.99 on Amazon .com; or at: www.internetpasswordorganizer.com.