BELMONT, Calif. — FXstreet.com and FX BOOTCAMP welcome Trade The News to their partnership of providing online educational events for Foreign Currency (FOREX, FX or 4X) Traders featuring live news, analysis and forex training. Trade The News brings live audio news feed to the already successful online events. FOREX Traders attending the event will hear the news instantly, usually before the T.V. networks even have time to react.
The Non-Farm Payrolls Employment Report, issued by the U.S. Department of Labor the first Friday of each Month, is the best measure of the health of the U.S. Economy and therefore directly impacts the value of the U.S. Dollar, often dramatically.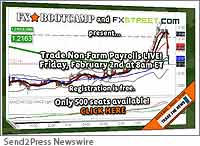 "As the largest FOREX Portal on the web, we are in touch with what currency trades need," says Francesc Riverola, CEO of FXstreet.com. "Live FOREX training as the Employment Report is released is very exciting for our traders! Our live events with FxBootcamp.com, often with 500+ traders registered to attend, may have become the most popular FOREX seminars on the web!"
"Attendees will see my charts and hear my voice in real-time," says Wayne McDonell, Chief Currency Coach at FxBOOTCAMP.com. "They will also be able to ask me questions as the market reacts to the news. It will be an amazing learning experience, especially for new traders."
A video summary of a previous forex training event during Non-Farm Payrolls can be found here: http://www.youtube.com/watch?v=R14P0QCGg2U
"Our broadcasters report and analyze the news live, free of conflict, quota, or bias," says Joe Perrone, President of Trade The News. "This event combines our live news with the best forex training and online community, providing priceless information to all traders… how to use the news to trade successfully."
About FxBOOTCAMP
FxBootcamp.com provides live FOREX Training to online currency traders around the world. Providing daily live market commentary and forex training, members receive an educational experience designed not just on developing technical or fundamental analysis, but refining skills for patient, disciplined, and conservative trading.
About FXstreet.com
Forex leading independent Internet portal which provides real-time exchange rates, currency charts, Forex news, market research, Forex newsletters, live Q&A sessions with market experts, a trading corner for active traders, Forex software and an exclusive Premium Service.
About Trade The News, Inc.
Trade The News (TradeTheNews.com) is the financial professional's most trusted source for real-time breaking financial news and analysis. With over 350 sources, street contacts and field reporters, Trade The News is committed to report, analyze and broadcast market moving news faster than ever before."
Event Details: Friday, February 2nd – 12:00GMT 8:00AM ET
www.fxstreet.com/live/sessions/session.aspx?id=68125979-e4f9-4448-8a4e-54de4d7b46ac
[tags]FXbootcamp Forex training, NonFarm Payrolls Employment Report, Trade The News, Belmont California news[/tags]