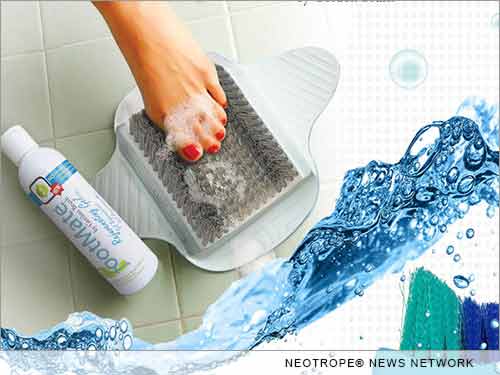 COMMERCE, Calif. /California Newswire/ — The FootMate(R) System by Gordon Brush will be available to Whole Foods Market Midwest customers in the 44 stores comprising the region beginning in May, 2015. The American-made FootMate System helps make optimal foot health easy.
"We are pleased to offer the FootMate System to our health and beauty conscious customers. The FootMate System provides a fantastic way to clean and massage feet with a custom formula just for Whole Foods Market customers. This product, made in the United States, contains no artificial colors, fragrances, or preservatives," said Kara Smith, whole body buyer, Whole Foods Market Midwest.
"The FootMate System Rejuvenating Gel has been reformulated to comply with Whole Foods Market high-quality standards," Smith added. "FootMate Rejuvenating Gel contains no artificial preservatives, dyes, or fragrances. It contains Tea Tree Oil, a natural antiseptic/antifungal, vitamin E, certified biological ingredients and other great stuff to make feet feel clean, smooth, and silky."
"Whole Foods Market opens up a new channel of distribution for the FootMate System," said Ken Rakusin, president and CEO of Gordon Brush. "The availability of the product in a retail store environment provides increased visibility and access for this great product. The reformulated FootMate System Rejuvenating Gel was designed specifically for Whole Foods Market customer. We look forward to having them as our newest partner."
It is a complete foot care system for cleaning, soothing, stimulating, and massaging feet in the shower. The FootMate System is a brush and specially formulated gel that cleans and massages feet without having to bend over. The product is for anyone wanting a soothing, stimulating way to clean and massage their feet. The FootMate System is the ultimate foot massage and the perfect way to pamper tired, aching feet.
For more information on the FootMate System, contact Alan Schechter, director of sales and marketing, at (323) 450-2748, or http://www.footmate.com/.
About Gordon Brush:
Gordon Brush Mfg. Co., Inc. is an ISO 9001:2008 certified and leading manufacturer of specialty, custom and standard brushes for industrial and consumer purposes. The company makes over 15,000 medical, industrial, janitorial, and electronic brushes in Commerce, California. Over 2,000 different brushes are available for same day shipment. Gordon Brush has been featured on the ION Network, Discovery Channel, Bloomberg News, The Real Talk Show, and in the Los Angeles Times.
VIDEO: https://youtu.be/N3cNAXUoxn4
TWITTER: @FootMate
VIDEO:

For questions or comments regarding the above news announcement, contact the company/organization(s) mentioned in the text, and not this website.
Copyright © 2015 CaliforniaNewswire® and Neotrope®. California Newswire is a publication of the Neotrope News Network and a U.S. reg. TM of Neotrope.