LOS ANGELES, Calif. — As global warming causes mega-fires to become the norm, as firefighting budgets are slashed, firefighting aircraft are grounded due to thick smoke, and firefighters are overwhelmed by the sheer number and size of wildfires, people are asking: Can technology be harnessed to produce a firefighting force capable of taking on such destructive phenomena before our forests are reduced to ash? Before thousands lose their homes? Before more lives are lost to rampant wildfires? A book from Firebomber Publications may provide the answer.
Firebombers Incorporated: The firefighting force for the 21st century! Melding together proven firefighting techniques with the latest in electronics, computers, and space-age materials, an elite, hard-hitting force is created, one which can see through smoke and dark of night as though it's a clear day, able to rapidly deploy all their firefighters and equipment to a fire zone by air, networking every unit through futuristic command-and-control vehicles.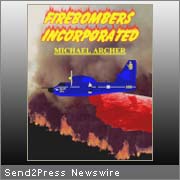 Firebombers Incorporated offers an intriguing 'what if?' scenario: Could such an outfit help the wildland firefighting forces that are currently stretched to the breaking point win their battles faster, save more lives, and substantially reduce suppression costs, not to mention property and financial losses?
Dedicated to those who risk their lives to save the lives of others, Firebombers Incorporated is a must read for anyone concerned about the increasing threat of mega-fires and interested in seeing what could be done to stop them dead in their tracks!
About the Author
Michael Archer holds degrees in Agriculture, Electronics, and Engineering Technology. He has written articles for Wildland Firefighter Magazine, Home & Fire Magazine, and others. He has been interviewed by KABC-TV, USA Today, and Associated Press on wildfire issues. He is webmaster and technical advisor to Wildfire Research Network, a public-safety research and education nonprofit (www.wildfireresearch.org), and San Diego Regional Fire Safety Forum, a professional forum to educate the public about the threat of wildfires and what future changes are necessary to protect the San Diego Region (www.sdfiresafety.org).
About Firebomber Publications
Firebomber Publications is a small press dedicated to providing exciting firefighting fiction to the general public. Firebomber Publications donates 50% of the profits from sales of the "Firebombers Incorporated" product line to organizations that support the families of injured and fallen firefighters. Website: www.firebomberpublications.com
Title: FIREBOMBERS INCORPORATED
Author: Michael Archer
ISBN-10: 0970798016 ISBN-13: 978-0970798015 (trade paperback, 377 pages)
Publisher: Firebomber Publications
Available through Amazon.com, The Supply Cache (www.firecache.com) and Baker & Taylor.
[tags]Firebombers Incorporated book, author Michael Archer, Firebomber Publications[/tags]