Young Philanthropists Stand up in Fight Against Cancer on Both Coasts
CULVER CITY, Calif. — Facto Non Verba, Inc., a national grassroots philanthropic organization, will host its fifth annual charity cocktail party to benefit the American Cancer Society on Thursday, September 20 at The Loft Restaurant & Lounge in New York City.
Translated from Latin "Deeds, Not Words," Facto Non Verba puts its mission into action with an event that exposes young executives to the work of the American Cancer Society in an atmosphere of social and professional networking instead of the customary awards dinner.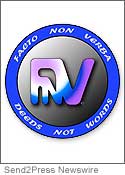 DJ Dallas Green will bring The Big Show live to New York's The Loft Restaurant & Lounge for the night of dancing, while California-based artist Bella M. paints a commissioned work onsite to be auctioned at the end of the evening. Comedian Ron G of Bill Bellamy's Who's Got Jokes fame hosts. Complimentary wine and hors d'oeuvres and a no-host bar will be available. Each guest will have a chance to win generous raffle prizes from American Express, Bloomingdales, Saks Fifth Avenue, Williams-Sonoma and 800wine.com. Facto Non Verba partners Dwell magazine, J-Records and Oral Fixation Mints are providing event keepsakes.
"What I like about the FNV event is that it has a meaningful purpose, but it's not weighted down with a long program like some of the other fundraisers I've attended," says Joe Rake, who has attended the annual event in the New York area for the past three years.
With an aging population's ability for charitable giving decreasing and baby boomers retiring from corporate life, Facto Non Verba believes that the next generation of significant supporters of cancer research, today's young professionals, must be exposed to the American Cancer Society's accomplishments now.
"As the nation's largest nonprofit, volunteer-based health organization dedicated to eliminating cancer as a major health problem by saving lives, diminishing suffering and preventing cancer through research, education, advocacy and service, the American Cancer Society receives generous support from corporate and private financial contributions," stated Laurie Vokes, Senior Director of Corporate Relations for the American Cancer Society's Manhattan Region. She adds, "Our continued success also relies upon gaining the support from younger generations because this helps our organization build a foundation of support for the future."
Several members of Facto Non Verba have friends or relatives who have battled, and in some instances succumbed, to cancer. This personal connection to the cause is part of what fuels their efforts to influence their peers to support the American Cancer Society.
"Facto Non Verba's annual charity events are encouraging new donors to get involved, providing them with information about the American Cancer Society's successes as well as educating them about preventing and fighting cancer," explained William A. Singleton III, founder and president of Facto Non Verba. "The more informed today's young executives are, the more inclined they will be to support the fight against cancer as tomorrow's corporate philanthropy gatekeepers."
In the last four years, nearly $25,000 has been donated to the American Cancer Society from almost 500 Facto Non Verba philanthropists as a result of its six charity events. This year's goal is $15,000 and 400 philanthropists.
Tickets for the 2007 FNV charity event are $40, with discounted tickets at $35 available online through September 6. The doors open at 7 pm with the event concluding at 10 pm. To purchase tickets or for more information, visit: http://www.factononverba.org
About Facto Non Verba, Inc.
Headquartered in Culver City, CA, Facto Non Verba, Inc. (FNV) is a self-initiated group of young professionals located around the country that decided to personally get involved in helping the American Cancer Society. The group delivers an event that caters to its generation and is committed to donating 100 percent of net proceeds from its events to the American Cancer Society.
[tags]Facto Non Verba Inc, charity cocktail party, benefit the American Cancer Society, Culver City news, The Loft Restaurant New York City, DJ Dallas Green[/tags]