FRESNO, Calif. — F & M Tool and Plastics Inc., in Leominster Mass., a molding firm specializing in manufacturing eco friendly products, has announced the opening of Smartware Products, a division of F & M Tool and Plastics, a sales and distribution center in the Central Valley of California.
Smartware Products is a resourceful GREEN solutions company that produces and distributes American made pots, whiskey barrels and landscape timbers, along with a vast line of products that carry a minimum 20 year warranty.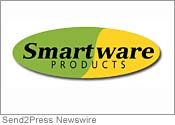 "It is our job and our duty to recycle post consumer products to help the planet," said Chris Dondero. "And we recognize California's commitment to 'green' products."
Chris Dondero has been appointed West Coast Division Sales Manager and Terry Dondero, Director of Product Development.
Local offices can be reached at: 516 Villa Avenue, Ste. 28 Clovis, Calif. Telephone Number: 1-(559)-324-0300.
More information: http://www.smartwareproducts.com.
[tags]Smartware Products, FM Tool and Plastics, molding firm, manufacturing eco friendly products, Chris Dondero, recycle post consumer products[/tags]