LOS ANGELES, Calif. — Today, popular online jewelry merchant MyBargainJewels announced the launch of a new line of charm bracelets dubbed "The Guardian Eye." Each bracelet is handmade of Murano glass beads and fits any wrist size. At first glance, these trendy bracelets are simple enough, yet shrouded in thousands of years of superstition.
In fact, even today, people across the Middle East, Latin America, North Africa and Asia wear such charms and jewelry to protect themselves from the so-called "curse of the evil eye." According to legend and myth, whenever someone of lesser means casts an envious glance your way, you could be struck with the evil eye curse.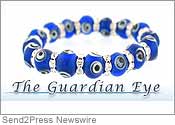 "You might suddenly fall ill or experience an extended stroke of bad luck," says Sossi Reynolds, Founder and President of MyBargainJewels.com.
"Worst case scenario: serious bodily injury or even death could result from the evil eye. The curse is nothing to be scoffed at," continues Mrs. Reynolds. There are even books dedicated to it, including titles such as: "The Evil Eye: The Origins and Practices of Superstition" by Frederick Thomas Elworthy; and "Terrors of The Evil Eye Exposed" by Henri Gamache.
But Mrs. Reynolds encountered an intriguing problem in naming her new jewelry line because, technically speaking, "The Evil Eye" could refer to the curse or to the piece of jewelry itself. So, after much consideration, she aptly named her new jewelry line, "The Guardian Eye."
"You see, the bracelet beads have a little eye design on them. This eye is said to deflect the evil eye curse. But naming it the same thing is confusing. That's why The Guardian Eye makes sense. My Guardian Eye Bracelets deflect the evil eye curse."
Whether or not the general public believes in the curse, Sossi assures us that "these bracelets have been around for hundreds of years, maybe even thousands" and they are increasingly popular.
Evil Eye bracelets are available from http://www.mybargainjewels .com, a site famous for offering quality jewelry at wholesale prices.
[tags]The Guardian Eye bracelet, MyBargainJewels online jewelry store, Sossi Reynolds, fight the evil eye[/tags]