MIAMI, Fla. — The Expand-A-Lung Breathing Resistance Exerciser has successfully accomplished the crossover from the sports respiratory fitness training market into the respiratory therapy market for COPD patients. Jorge Brouwer, President of Expand-A-Lung, Inc., and inventor of the most compact (4″) breathing exerciser, originally marketed this product for athletes seeking a pocket size portable respiratory exerciser to increase lung capacity for endurance fitness training.
When asked about the 4 year marketing evolution of his product, Mr. Brouwer said "It first caught on quickly among freedivers and triathletes, and then it trickled down into all the other endurance sports."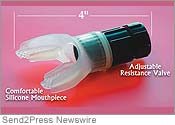 "In 2004 The Los Angeles Times did a review of respiratory fitness trainers, and the Expand-A-Lung was selected as the top choice for athletes. This is when our sales really took off! Little did we know that there was another huge market around the corner waiting to discover our product."
"In 2005 I gave a sample of our product to my uncle Bob, who suffers from shortness of breath due to Chronic Obstructive Pulmonary Disease (COPD). The very next day he called me to let me know that he wanted to invest all his savings into my business. I guess that meant that it worked very well for COPD symptoms!"
Brouwer started targeting this market through search engines' campaigns. Two years later by the end of 2007, 49.7% of Expand-A-Lung's total sales came from COPD patients looking to improve their shortness of breath symptoms "DRUG FREE."
The Expand-A-Lung is sold directly to the consumer through two separate web sites for $29.95 ea. For contact information call (305) 665-5787 or:
For athletes, visit http://www.expand-a-lung.com .
For COPD patients, visit http://www.copd-breather.com .