EVERETT, Wash. — Sales Talent Inc., a national executive search firm, opened its second office Sept. in Everett to provide consulting services to local and national companies. "Our philosophy is simply to align ourselves with growing, top-tier companies and develop long-term relationships with them," said Chris Carlson, president of Sales Talent Inc.
"This relationship should be based on providing our clients with their top sales reps and ensuring good fits to reduce costly turnover. I am proud to say that we have achieved this goal with numerous clients," Carlson said.
Sales Talent Inc. will reside in the Everett Public Market Building on the third floor and will be employing eight to 10 new consultants over the next eight months to provide recruiting services for their clients.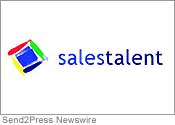 "We are very excited about the new location in Everett for multiple reasons," said Victor Cox, director of sales for the Everett location.
"We are hoping that this location will attract talented employees that live north of Seattle and who do not want to commute south. Everett is also a growing city with a lot of potential and we hope that we will be able to service the local business community as well as our traditional focus on placing sales professionals nationally," Cox said.
Sales Talent Inc., founded in 1999, is a national sales recruiting firm specializing in the placement of experienced sales professionals and sales management. Client's range from Fortune Magazine's top 100 Fastest Growing Companies to Blue Chips listed on the Fortune Magazine's 500 largest.
For more information, contact Victor Cox at 425-939-7910 and you can visit us at http://www.salestalentinc.com.