LOS ANGELES, Calif. — Gallery of Historical Figures announces "The Holocaust," a realistic sculpture by artist G. S. Stuart pays homage to the millions of victims slain in the death camps of World War II. After extensive research, Stuart set a working prisoner in Auschwitz and then carefully modeled the tableau in quarter life size.
Before entering a private collection in New York, "The Holocaust" will be on public exhibit until November 15 at the Los Angeles Museum of the Holocaust, call (323) 651-3704 or visit http://www.lamoth.org. On November 15, the artist will describe his work in a multimedia presentation at 6:30 p.m., following a 5:30 p.m. members-only reception.
"This compassionate sculpture captures the suffering of concentration camp prisoners. It reaches out to our Museum visitors in a profoundly evocative way," said Mark Rothman, Executive Director of the Museum. "We are thrilled to give it a temporary home."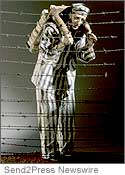 The Holocaust is the latest created by artist and historian G. S. Stuart, whose works are known for high historical accuracy and attention to detail.
Most of his 400-plus Historical Figures(R) are in museums, including the Smithsonian Institution. In southern California, the Museum of Ventura County exhibits their collection of 200 Historical Figures on a rotating basis.
About the Artist
Stuart works from the Gallery of Historical Figures, his studio in Ojai, California. See http://www.galleryhistoricalfigures.com.
[tags]artist and historian GS Stuart, Gallery of Historical Figures, Los Angeles Museum of the Holocaust, California arts news[/tags]