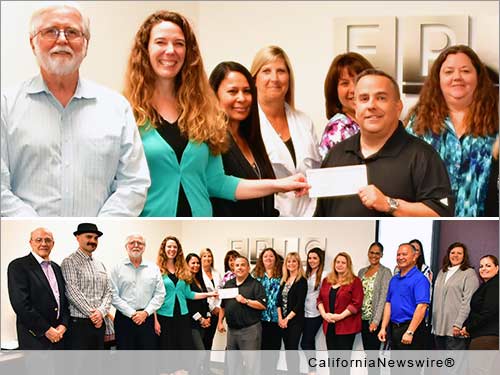 SAN FRANCISCO, Calif. /California Newswire/ — EPIC Insurance Brokers and Consultants, a retail property, casualty insurance brokerage and employee benefits consultant, today announced details of community support provided by their Inland Empire division. In 2015, the "EPIC Invitational Golf Tournament" raised approximately $28,000 for the Joyful Child Foundation. This year's tournament, held on March 25, 2016, generated an additional $40,477 – for a two year total of nearly $70,000.
Led by managing principal Dan Ryan and principals David McNeil and Joe Cotugna, EPIC's Inland Empire team has historically been very active in the surrounding community, supporting a variety of non-profit and community service organizations.
The Joyful Child Foundation has been one of the most significant beneficiaries. For the past two years, EPIC has been the title sponsor of a golf tournament directly benefiting the Foundation, which is dedicated to protecting children from predators and molesters.
Said Dan Ryan, "We have seen the visible impact of our efforts around our community in advertising for the Foundation as well as their increased communications with sponsors and those they serve, including a new newsletter."
Erin D. Runnion, Founder of The Joyful Child Foundation shared: "The Joyful Child Foundation – In Memory of Samantha Runnion is excited to have the opportunity to bring our BRAVE Programs to the Inland Empire, thanks to the generosity of EPIC Insurance Brokers. Last year's gift provided training to community partner agencies that serve hundreds of disadvantaged children and we are delighted to have a Master Trainer in the area offering monthly programs at Operation Safe House and establish classes with the City of Riverside's Youth Programs."
He added, "EPIC's support made it possible for The Joyful Child to receive a letter of intent to bring the BRAVE Curriculum to Riverside Unified School District, so that we can train teachers to deliver our age-appropriate safety education in every classroom. It takes a community to keep our children safe and EPIC is leading the way to empower every child to be brave and safe."
EPIC principal Joe Cotugna added, "We are proud and honored to be able to make such an impact in our community in support of an important organization like The Joyful Child Foundation."
EPIC employees are very active in their communities on both an individual basis and in teams. COMMUNITY is one of EPIC's 10 guiding principles, collectively known as "EPICness." Learn more: http://www.epicbrokers.com/epicness/#tabs
"We believe strongly in giving back and making a positive difference," said EPIC principal David McNeil. "It is an integral part of EPIC's 'people first' culture and values."
About EPIC Insurance Brokers & Consultants:
EPIC is a unique and innovative retail property & casualty and employee benefits insurance brokerage and consulting firm. EPIC has created a values-based, client-focused culture that attracts and retains top talent, fosters employee satisfaction and loyalty and sustains a high level of customer service excellence. EPIC team members have consistently recognized their company as a "Best Place to Work" in multiple regions and as a "Best Place to Work in the Insurance Industry" nationally.
EPIC now has more than 850 team members operating from offices across the U.S., providing Property Casualty, Employee Benefits, Specialty Programs and Private Client solutions to more than 13,000 clients.
With more than $200 million in revenues, EPIC ranks among the top 20 retail insurance brokers in the United States. Backed by the Carlyle Group, the company continues to expand organically and through strategic acquisitions across the country. For additional information, please visit http://www.epicbrokers.com/.
About the Joyful Child Foundation:
The Joyful Child Foundation – In Memory of Samantha Runnion is a 501 (c)(3) not for profit organization founded in 2002 after the abduction, molestation and murder of five-year old Samantha Runnion. In order to prevent child sexual abuse and abduction The Joyful Child Foundation will:
* Be the resource for concerned parents to engage in the movement to stop predatory crimes against children.
* Provide proactive education and empowerment tools to children and parents.
* Facilitate collaboration among individuals, non- profit organizations, schools, businesses, and government to create sustainable community initiatives to ensure that safety education for child protection continue in perpetuity.
* To learn more about the Joyful Child Foundation, please visit http://www.thejoyfulchild.org/.
– Photo Caption: Presentation of Golf Tournament Proceeds from Joe Cotugna of EPIC Insurance Brokers & Consultants to Erin Runnion of The Joyful Child Foundation.
For questions or comments regarding the above news announcement, contact the company/organization(s) mentioned in the text, and not this website.
Copyright © 2016 CaliforniaNewswire® and Neotrope®. California Newswire is a publication of the Neotrope News Network and a U.S. reg. TM of Neotrope.