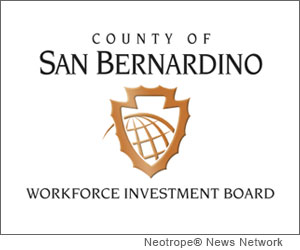 SAN BERNARDINO, Calif. /California Newswire/ — At a time when good local jobs are in high demand, the Inland Empire East End Job Fair hosted by the San Bernardino County Workforce Investment Board will offer local job seekers the chance to meet with dozens of employers and access hundreds of job opportunities.
The Job Fair will be held Tuesday, November 13 from 9 a.m. to 2 p.m. at the Carousel Mall, 295 Carousel Mall, in San Bernardino. Information about the Job Fair for employers and job seekers may be obtained at (800) 451-JOBS or visit www.csb-win.org.
The Job Fair's co-sponsors include the City of Colton, the Yucaipa Chamber of Commerce, the California State University San Bernardino Career Development Center and the San Bernardino Valley Enterprise Zone.
The East End Job Fair has already attracted more than a dozen local companies seeking to fill more than a hundred job openings. Participating companies include US Foods, County of San Bernardino Pre-School Services Department, States Logistics, Synergy Companies, Ashley Furniture and American Medical Response. The jobs offered will include full-time and part-time positions in professional, managerial, technical, clerical, transportation, shipping and logistics, manufacturing, medical, retail, service, and sales.
States Logistics of Buena Park is seeking to hire more than 50 new employees at the Job Fair for staffing and management of their warehouse and customer service departments.
"We have had consistent success finding qualified new employees at the San Bernardino area Job Fairs and our company is growing, so we have a lot of positions to fill," said Linda Chambers, HR Manager of States Logistics.
Steve Wilkinson, Operations Manager for Service Brothers Transport, will participate for the first time in a local job fair because of the access to local job seekers. "We are looking for people from the local area to work out of our office in San Bernardino. There are a lot of good people in that area and we want to support the community there by hiring at the Job Fair." The rapidly growing transportation and shipping company will be looking for eight new drivers and a mechanic.
At the recent High Desert Job Fair, more than 75 employers offering more than 1,400 job opportunities met more than 1,600 applicants. Job seeker Sean Lunsford was among the first in line at the event and earned an interview with a Rancho Cucamonga company. "With online job searching and applying, you can't meet people face to face," he said. "This event gave me the opportunity to ask employers about the organization and how my talents and skills could fit into their culture."
"Because our County's employers are committed to hiring locally, our Job Fairs are a great way for employers and job seekers to meet face-to-face," said Sandy Harmsen Executive Director of the Workforce Investment Board. "Our Job Fairs give businesses a way to efficiently access large numbers of qualified workers and find the human resources they need to grow and be successful."
Numerous local companies attend the Job Fairs annually with many returning to find new workers each year since 2008. Eduardo Cruz, Human Resources Manager at Horizon Hobby, Inc. has attended the Inland Empire West End Job Fair for the past four years. "This is great exposure for our company as well as a great way for us to meet prospective applicants," he said. "We're very committed to hiring within the community and create a strong, loyal workforce."
"The East End Job Fair will bring together local businesses and our community's skilled workforce to help businesses grow and positively impact our county's economic vitality," said Josie Gonzales, Chair and County of San Bernardino Fifth District Supervisor. "Job Fairs help local business find qualified job seekers in the community which creates opportunities for county residents to work close to home. This not only supports our economy, it also reduces the need for residents to commute long distances and that improves our air quality and reduces traffic congestion."
Employers and job seekers who are interested in the Workforce Investment Board programs may call: (800) 451- JOBS or visit www.csb-win.org.
About the Workforce Investment Board of San Bernardino County:
The Workforce Investment Board of San Bernardino County is comprised of private business representatives and public partners appointed by the County of San Bernardino Board of Supervisors. The WIB strives to strengthen the skills of the County's workforce through partnerships with business, education and community-based organizations. The County of San Bernardino Board of Supervisors is committed to providing County resources, which generate jobs and investment.
The Workforce Investment Board, through the County of San Bernardino's Economic Development Agency and Workforce Development Department, operates the County of San Bernardino's Employment Resource Centers (ERCs) and Business Resource Centers (BRCs). The ERCs provide individuals with job training, placement and the tools to strengthen their skills to achieve a higher quality of life. The BRCs support and provide services to the County's businesses including employee recruitment.
Employers and job seekers who are interested in the Workforce Investment Board programs may call: (800) 451-JOBS or visit www.csb-win.org.
Also follow us on: Facebook www.facebook.com/SBCountyWIB or on Twitter @InlandEmpireJob and YouTube www.youtube.com/SBCountyWIB .
Copyright © 2012 CaliforniaNewswire® and Neotrope®. California Newswire is a publication of the Neotrope News Network and a U.S. reg. TM of Neotrope.