MARTINEZ, Calif. — There has been much recent press about the decline in new homes sales for the first part of 2007, but Altamont Homes, Inc., a licensed general contractor, has not been negatively affected; the company has recently expanded to seven western states – California, Nevada, Oregon, Washington, Idaho, Montana, and Arizona.
According to Eric Peterson, President of Altamont Homes, Inc., the reason for this expansion is due to the company's specialization in off-site construction. Altamont Homes sells and performs the on-site assembly of homes and multi-family buildings which are built off-site in controlled-factory environments.
These are not manufactured or mobile homes; they are conventional housing with the same amenities, appearance, financing, and code compliance as houses built on-site. This type of construction is commonly known as pre-built or true modular housing in Eastern and Central portions of the U.S., but it has only recently started making a significant impact in the West.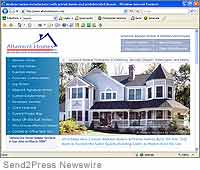 The Automated Building Consortium reported that between 1995 and 2005, this type of construction has steadily been on the rise; it has more than doubled.
One of the main reasons for the rise in popularity is cost. Peterson explains that California homes that are identical to theirs, but "stick-built" on site by a contractor cost between $175 and $300 per square foot.
Altamont Homes can save clients hundreds of thousands of dollars by building homes off-site in an efficient and quality-controlled production facility.
Altamont Homes works with 16 different factory suppliers throughout the West to provide developers and custom-home clients with the best off-site built housing choice for their needs, location, and budget.
A full spectrum of services is offered to clients through all phases of the building process. This includes: obtaining permits, grading, installing utilities, building foundations, on-site assembly and finish of the off-site built homes. Altamont Homes also provides project consulting services and training to other contractors and developers.
Houses range from standard to luxury. Project managers will work with clients to customize elements to create the home of their dreams.
"We may be the only construction company in the West that has the experience and ability to deliver, assemble and finish off-site constructed homes in any part of any of the seven states that we are licensed in," Peterson said.
Altamont Homes has assembly and finish crews that are mobile and capable of assembling and finishing a single home or a whole development in a remote area in a cost effective and efficient manner.
"Attention to detail and excellence in workmanship is never sacrificed," Peterson explained.
Altamont Homes is also planning the launch of a new web site to showcase their custom, luxury off-site constructed homes that can be delivered and assembled anywhere in the states that it currently serves.
For more information, visit: http://www.AltamontHomes.com .
[tags]Altamont Homes Inc, Automated Building Consortium, Martinez California news[/tags]