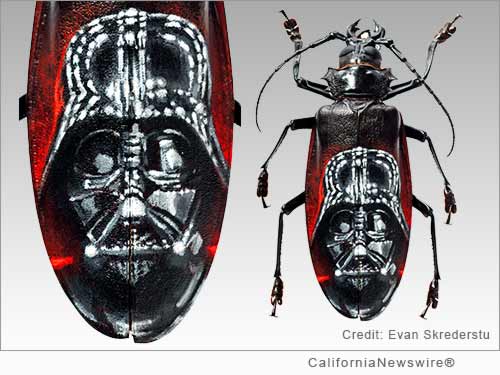 MILL VALLEY, Calif. /California Newswire/ — Fine art investment company ArteQuesta today announced that urban artist Evan Skrederstu has been commissioned for a Star Wars themed piece in a crescendo to his acclaimed Mask Series of painted bugs. The commissioned image of the iconic Darth Vader mask is to be painted on a largest breed of beetle, Titanus Gigantus, measuring 5.75 inches.
"Star Wars was the first movie I ever saw. I knew Star Wars before I knew math or how to write my name and it's never gone away," says Skrederstu. "As part of my ongoing Mask Series, it seems very appropriate to paint one of the most infamous and iconic masks of them all, Darth Vader. Attributes of the Vader mask are very similar to that of a black beetle; the sheen contours the large eyes, while the exoskeleton and armor enhance the form and composition."
Skrederstu has become known for his exquisite work on three-dimensional exoskeletons, and will be exhibiting the series in its entirety later this year. Each insect has been framed in glass hanging boxes and hermetically sealed, in similar fashion to a mummy, in order to prevent decay. The series will be available for purchase for ArteQuesta clients following the exhibition.
About Evan Skrederstu:
Evan Skrederstu is a Los Angeles born urban artist known for his photorealism, urban murals, and surrealistic compositions. He is a member of street-art collective UGLARworks (Unified Group of Los Angeles Residents), and currently resides in Los Angeles.
About ArteQuesta:
ArteQuesta helps individuals, families, companies and institutions build investment quality art collections. We help clients discover new art and artists; get access to art not available to the public; advise on purchases and sales; provide first-class provenance services; buy and sell; keep them up to date on trends, new artists and exhibitions worldwide.
Founder Rayah Levy brings years of expertise in the art market as an advisor, curator, educator and humanitarian to bring together the fine arts and the investment world, promote preeminent 21st century artists and foster artistic expression.
For those interested in learning more about the work of Evan Skrederstu or building an investment quality art portfolio, please visit: http://www.artequesta.com/ .
For questions or comments regarding the above news announcement, contact the company/organization(s) mentioned in the text, and not this website.
Copyright © 2015 CaliforniaNewswire® and Neotrope®. California Newswire is a publication of the Neotrope News Network and a U.S. reg. TM of Neotrope.